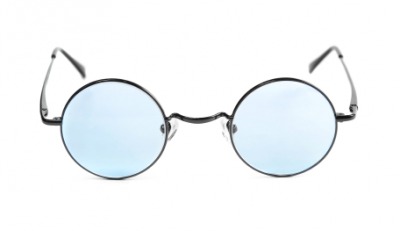 The lens in these glasses are blue.
noun
The definition of a lens is a piece of glass or other hard clear material molded with one side flat and the other curved or both sides curved that forms an image by bringing together or spreading the light that passes through it.

An example of lens is the clear pieces covering the eyes in eye glasses.
An example of lens is what a camera uses to take photos.
---
lens
a piece of glass, or other transparent substance, with two curved surfaces, or one plane and one curved, regularly bringing together or spreading rays of light passing through it: a lens or combination of lenses is used in optical instruments, eyeglasses, etc. to form an image
a combination of two or more such pieces

any of various devices used to focus microwaves, electrons, or sound waves

Anat.

a transparent, biconvex body situated between the iris and the vitreous humor of the eye: it focuses upon the retina light rays entering the pupil
Origin of lens
L, lentil: from the resemblance to the shape of a lentil
to photograph
to make a film of
---
lens
noun
pl.
lens·es
A ground or molded piece of glass, plastic, or other transparent material with opposite surfaces either or both of which are curved, by means of which light rays are refracted so that they converge or diverge to form an image.
A combination of two or more such pieces, sometimes with other optical devices such as prisms, used to form an image for viewing or photographing. Also called compound lens .
A thin piece of glass or plastic, as on a pair of sunglasses, that transmits light without refraction.
A device or phenomenon (such as a gravitational field) that causes light or other radiation to converge or diverge by an action analogous to that of a lens.

a. A transparent, biconvex structure in the eye of a vertebrate or cephalopod that is located between the iris and the vitreous humor and focuses light rays entering through the pupil to form an image on the retina.

b. A similar structure in many invertebrates.
transitive verb
lensed, lens·ing, lens·es
Informal To make a photograph or movie of.
To bend or distort (light, for example) by means of a lens, especially a gravitational field.
Origin of lens
New Latin
lēns
from
Latin
lentil (from the shape of a double convex lens)
Related Forms:
lens
Light rays converge when passing through a biconvex lens (top) and diverge when passing through a biconcave lens (bottom).f indicates the focus.
---
lens

Origin
Latin lens ("a lentil bean")
---
lens - Computer Definition
The glass or plastic elements that focus light onto analog film or a digital sensor in a still or video camera. Lens quality is just as important in digital cameras as it was in the Daguerreotype cameras in the 1800s. See digital camera and kit lens.
---