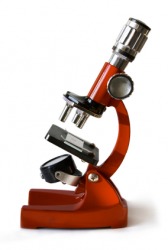 One type of microscope.
noun
The definition of a microscope is an instrument with lenses which is used to make really small objects look bigger by magnifying them.

The tool used by scientists to look at really small bacteria that they need to magnify is an example of a microscope.
---
microscope
an instrument consisting essentially of a lens or combination of lenses, for making very small objects, as microorganisms, look larger so that they can be seen and studied
Origin of microscope
Modern Latin
microscopium:
see micro- and -scope

---
microscope
noun
An optical instrument that uses a lens or a combination of lenses to produce magnified images of small objects, especially of objects too small to be seen by the unaided eye.
An instrument, such as an electron microscope, that uses electronic or other processes to magnify objects.
Origin of microscope
Italian
microscopio
or
New Latin
mīcroscopium
(Italian) (
from
New Latin); see
Microscopium
.
microscope
---
microscope

Noun
(plural microscopes)
An optical instrument used for observing small objects.
Any instrument for imaging very small objects (such as an electron microscope).
Origin
From New Latin microscopium, from Ancient Greek μικρός (mikros, "small") + σκοπέω (skopeō, "I look at").
---