horizon

ho·ri·zon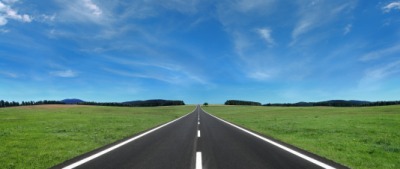 The road disappears into the horizon.
noun
The definition of horizon is the area where the earth and sky look as if they come together or how far your interests and knowledge stretch.

An example of horizon is the area where the sky and earth appear to merge into one sea of blue.
An example of horizon is a person who has never travelled outside of his own town.
---
horizon
the distant line where the sky appears to meet the surface of the earth
a similar line observed from the surface of the moon, etc.

[usually pl.] the limit or extent of one's outlook, experience, interest, knowledge, etc.: travel broadens one's horizons

Archaeol.

an archaeological level or an area of culture as indicated by surviving artifacts

Astron.

the great circle on the celestial sphere perpendicular to the line from the observer's zenith to the nadir

Geol.

a layer of soil or rock identified by physical characteristics, particular fossils, etc.
Origin of horizon
altered (after L) from Middle English
orizont
from Old French
orizonte
from Classical Latin
horizon
from Classical Greek
horiz?n (kyklos
), the bounding (circle), horizon from present participle of
horizein
, to bound, limit from
horos
, boundary, limit, akin to Classical Latin
urvus
, city boundary, origin, originally , furrow around city
on the horizon
in the foreseeable future; impending, looming, destined, etc.
---
horizon
noun
The apparent intersection of the earth and sky as seen by an observer. Also called apparent horizon .
Astronomy

c. The limit or edge of the observable universe.

The range of one's knowledge, experience, or interest.
Geology

a. A specific position in a column of rock layers, usually designated by the occurrence of one or more distinctive fossils or by a distinctive sediment bed, that is used in stratigraphy.

b. A layer of soil that can be distinguished from adjacent layers of soil and that is characterized by a certain color, texture, structure or chemical composition.

Archaeology A period during which the influence of a specified culture spread rapidly over a defined area: artifacts associated with the Olmec horizon in Mesoamerica.
Origin of horizon
Middle English
orizon
from
Old French
from
Latin
horizōn
from
Greek
horizōn (kuklos)
limiting (circle), horizon
present participle of
horizein
to limit
from
horos
boundary
---
horizon

Noun
(plural horizons)
The horizontal line that appears to separate the Earth from the sky.

A tall building was visible on the horizon.

The range or limit of one's knowledge, experience or interest.

Some students take a gap year after finishing high school to broaden their horizons.

(archaeology, US) A cultural sub-period or level within a more encompassing time period.
---