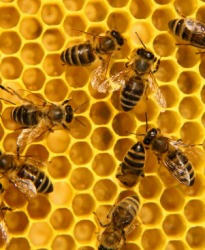 Bees in a honeycomb.
---
honeycomb
noun
the structure of six-sided wax cells made by bees to hold their honey or eggs
anything like this in structure or appearance
Origin of honeycomb
Middle English
hunicomb
; from Old English
hunigcamb
; from
hunig
, honey +
camb
, comb
transitive verb
to cause to have many holes like a honeycomb; riddle
to permeate or undermine: honeycombed with intrigue
intransitive verb
to become riddled with holes like a honeycomb
adjective
of, like, or patterned after a honeycomb
---
honeycomb
noun
A structure of hexagonal, thin-walled cells constructed from beeswax by honeybees to hold honey and larvae.
Something resembling this structure in configuration or pattern.
transitive verb
hon·ey·combed
,
hon·ey·comb·ing
,
hon·ey·combs
To fill with holes or compartments; riddle: cliffs that were honeycombed with caves and grottoes.
To form in or cover with a pattern like that of a honeycomb.
---
honeycomb
Noun
(plural honeycombs)
A structure of hexagonal cells made by bees primarily of wax, to hold their larvae and for storing the honey to feed the larvae and to feed themselves during winter.
Any structure resembling a honeycomb.

The wood porch was a honeycomb of termite tunnels before we replaced it.

(construction) voids left in concrete resulting from failure of the mortar to effectively fill the spaces among coarse aggregate particles.
(aviation) Manufactured material used manufacture light, stiff structural components using a sandwich design.
(solar cell) texturing the surface of a cell to increase its surface area and capture more sun.
Verb
(third-person singular simple present honeycombs, present participle honeycombing, simple past and past participle honeycombed)
To riddle something with holes, especially in such a pattern.

Termites will honeycomb a porch made of untreated pine.
---
honeycomb - Computer Definition
---