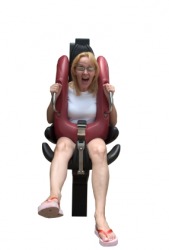 A woman wearing a harness for a roller coaster ride.
noun
The definition of a harness is a system of belts, straps or fabric to hold a person or animal down.

An example of harness is a bar that comes over riders on a roller-coaster.
verb
Harness is defined as to strap or belt someone or something down, or to bring under control for a purpose.

An example of harness is to strap a person safely into a rollercoaster seat.
An example of harness is to use solar power to generate energy.
---
harness
Archaic

armor and other military equipment for a man or horse
the assemblage of leather straps and metal pieces by which a horse, mule, etc. is fastened to a vehicle, plow, or load
any trappings or gear similar to this; specif.,

the straps, etc. by which a parachute is fastened to a person or object
a device for raising and lowering the warp threads on a loom

a set of electrical wires that can be quickly connected or disconnected as a unit at pluglike junctions
Origin of harness
Middle English
harneis
from OFr, armor from Old Norse an unverified form
hernest
, military supplies from
herr
, army, akin to harry +
nest
, provisions
Obs.

to put armor on

to put harness on (a horse, etc.)
to attach (a horse, etc.) with a harness to something, as a wagon

to control so as to use the power of: to harness one's energy
in double harness
in a harness for two animals pulling the same carriage, plow, etc.
in harness
in or at one's routine work
in cooperation; in tandem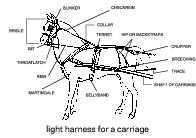 ---
harness
noun
The gear or tackle, other than a yoke, with which a draft animal pulls a vehicle or implement.
Something resembling such gear or tackle, as the arrangement of straps used to hold a parachute to the body.
A device that raises and lowers the warp threads on a loom.
Archaic Armor for a man or horse.
transitive verb
har·nessed, har·ness·ing, har·ness·es
a. To put a harness on (a draft animal).

b. To fasten by the use of a harness.

To bring under control and direct the force of: If you can harness your energy, you will accomplish a great deal.
Origin of harness
Middle English
harnes
from
Old French
harneis
of Germanic origin
; see
nes-
1
in Indo-European roots.
Related Forms:
---
harness

Verb
(third-person singular simple present harnesses, present participle harnessing, simple past and past participle harnessed)
Origin
Anglo-Norman harneis, Old French hernois ("equipment used in battle").
---