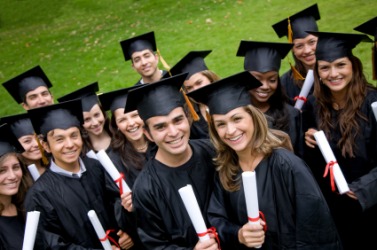 A group of students at their graduation.
noun
The definition of graduation is when you receive an academic diploma after completing your education, or is the event at which the diploma is granted, or is a line or mark that shows the next level.

An example of graduation is when you finish college and get your diploma at a special ceremony.
---
graduation
a graduating or being graduated from a school or college
the ceremony connected with this; commencement

a marking of a flask, tube, gauge, etc. with a series of degrees for measuring
one or all of the degrees marked; a degree or scale

an arrangement or classification into grades according to amount, size, etc.
Origin of graduation
Medieval Latin
graduatio
from past participle of
graduare
: see graduate
---
graduation
noun
a. Conferral or receipt of an academic degree or diploma marking completion of studies: the rate of graduation of student athletes.

b. A ceremony at which degrees or diplomas are conferred; a commencement.

a. A division or interval, as on a graduated scale: shading with many fine graduations.

b. A mark indicating the boundary of such a division or interval.

An arrangement in or a division into stages or degrees.
---
graduation

Noun
(plural graduations)
The action or process of graduating and receiving a diploma for completing a course of study (such as from an educational institution).
A commencement ceremony.
(sciences) A marking (i.e. on a container) indicating a measurement.
The exposure of a liquid in large surfaces to the air, so as to hasten its evaporation.
---