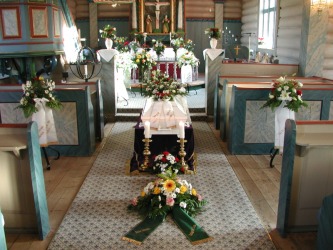 A coffin in a church ready for a funeral.
noun
The definition of a funeral is a ceremony celebrating or honoring the dead.

An example of a funeral is when your grandfather dies and you invite everyone to come to the church to hear speeches about him and to say goodbye.
---
funeral
of or having to do with a funeral
Origin of funeral
Middle English from Late Latin
funeralis
from Classical Latin
funus
(gen.
funeris
), a funeral from uncertain or unknown; perhaps Indo-European an unverified form
dheu-
, to pass away, die
the sequence of rituals and ceremonies connected with the burial or cremation of a dead person
the procession accompanying the body to the place of burial or cremation
Origin of funeral
ME
funerelles
(pl.) < OFr
funerailles
< ML
funeralia
< neut. pl. of
funeralis
be someone's funeral
Informal
to be someone's problem, worry, etc. and not another's
---
funeral
noun
a. A ceremony or group of ceremonies held in connection with the burial or cremation of a dead person.

b. Archaic The eulogy delivered or the sermon preached at such a ceremony.

The burial procession accompanying a body to the grave.
An end or a cessation of existence.
Slang A source of concern or care: If he doesn't meet the deadline, it's his funeral.
adjective
Of, relating to, or resembling a funeral.
Origin of funeral
Middle English
funerelles
funeral rites
from
Old French
funerailles
from
Medieval Latin
fūnerālia
neuter pl. of
fūnerālis
funereal
from
Late Latin
from
Latin
fūnus
fūner-
death rites
; see
dheuə-
in Indo-European roots.
---
funeral

---