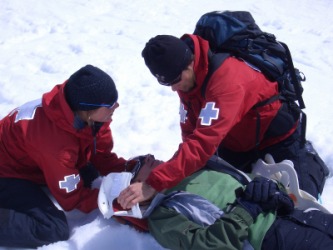 Two people administering first aid.
noun
First aid is defined as medical assistance provided to a person who has suffered a medical emergency.

Cleaning a cut and putting a bandage on it is an example of first aid.
---
first aid
emergency treatment for injury or sudden illness, before regular medical care is available
---
first aid
noun
Emergency treatment that is given to an injured or sick person or animal, often by someone who does not have medical training.
Related Forms:
---
first-aid

Noun
(uncountable)
(medicine) Basic medical care given to a an injury victim, usually where the injury is slight or where better care is not available.
Adjective
Of, or pertaining to, first aid.
---