fillet
[fil′it; for n. 6 & vt. 2, usually fi lā′, fil′ā′]
noun
The definition of a fillet is a thin strip or a band of something.

An example of a fillet is a thin, boneless slice of flounder.
verb
Fillet is defined as to bone and slice meat or fish, or bind and decorate.

An example of fillet is to bone and cut up a whole fish into thin slices.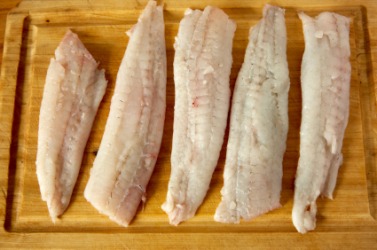 Fresh raw flounder fillets.
---
fillet
noun
a narrow band worn around the head as to hold the hair in place
a thin strip or band
fairing

Archit.

a flat, square molding separating other moldings
a narrow band between two flutings in a column

Bookbinding

an ornamental line impressed on a book cover

Cooking

a lean, boneless piece of meat
a flat, boneless slice cut lengthwise from the side of a fish
Origin of fillet
Middle English
filet
; from Old French diminutive of
fil
: see file
transitive verb
to bind or decorate with a band, molding, etc.
to bone and slice (meat or fish)
---
fillet
noun
A narrow strip of ribbon or similar material, often worn as a headband.
also fi·let

a. A strip or compact piece of boneless meat or fish, especially the beef tenderloin.

b. A boneless strip of meat rolled and tied, as for roasting.

Architecture

a. A thin flat molding used as separation between or ornamentation for larger moldings.

b. A ridge between the indentations of a fluted column.

A narrow decorative line impressed onto the cover of a book.
Heraldry A narrow horizontal band placed in the lower fourth area of the chief.
Anatomy A loop-shaped band of fibers, such as the lemniscus.
transitive verb
fil·let·ed
,
fil·let·ing
,
fil·lets
To bind or decorate with or as if with a fillet.
also fi·let To slice, bone, or make into fillets.
Origin of fillet
Middle English
filet
, from Old French, diminutive of
fil
,
thread
, from Latin
fīlum
; see
gwhī-
in Indo-European roots.
---
fillet
---