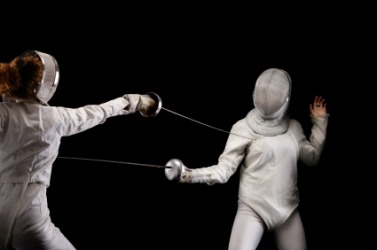 The sport of fencing.
---
fencing definition by Webster's New World
noun
the art or sport of fighting with a foil, saber, or epee

material for making fences
a system of fences
Origin: ; from fence, verb
Webster's New World College Dictionary Copyright © 2010 by Wiley Publishing, Inc., Cleveland, Ohio. Used by arrangement with John Wiley & Sons, Inc.
---
fencing definition by American Heritage Dictionary
noun
The art or sport of using a foil, épée, or saber in attack and defense.
Skillful repartee, especially as a defense against having to give direct answers.
Material, such as wire, stakes, and rails, used in building fences.
A barrier or enclosure of fences.
fencing
Variant of fence
noun
Obsolete

a protection; defense
a barrier, as of wooden or metal posts, rails, wire mesh, etc., used as a boundary or means of protection or confinement
the art of self-defense with foil, saber, or epee; fencing

a person who deals in stolen goods
a place where stolen goods are bought and sold
Origin: Middle English fens, aphetic for defens, defense
transitive verb
fenced, fencing
to enclose, restrict, or hamper with or as with a fence: with in, off, etc.
to keep (out) by or as by a fence

Archaic

to ward off; protect; defend
to sell (stolen property) to a fence
intransitive verb
to practice the art of fencing
to avoid giving a direct reply; be evasive (with); parry
to deal in stolen goods