fencing
[fen′siŋ]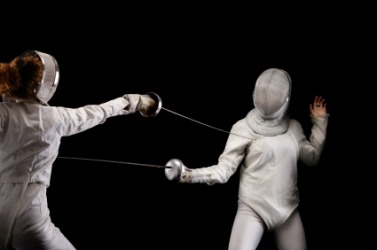 The sport of fencing.
---
fencing
noun
the art or sport of fighting with a foil, saber, or epee

material for making fences
a system of fences
Origin of fencing
; from fence, verb
---
fencing
noun
The art or sport of using a foil, épée, or saber in attack and defense.
Skillful repartee, especially as a defense against having to give direct answers.
Material, such as wire, stakes, and rails, used in building fences.
A barrier or enclosure of fences.
fencing
---
fencing
Verb
Present participle of fence.
Noun
(usually uncountable, plural fencings)
The art or sport of duelling with swords, especially with the 17th to 18th century European dueling swords and the practice weapons decended from them (sport fencing)
Material used to make fences, fences used as barriers or an enclosure.

Fencing was erected around the field to keep the horses in.
---
fencing
Variant of fence
noun
Obsolete

a protection; defense
a barrier, as of wooden or metal posts, rails, wire mesh, etc., used as a boundary or means of protection or confinement
the art of self-defense with foil, saber, or epee; fencing

a person who deals in stolen goods
a place where stolen goods are bought and sold
Origin of fence
Middle English
fens
, aphetic for
defens
, defense
transitive verb
fenced, fencing
to enclose, restrict, or hamper with or as with a fence: with in, off, etc.
to keep (out) by or as by a fence

Archaic

to ward off; protect; defend
to sell (stolen property) to a fence
intransitive verb
to practice the art of fencing
to avoid giving a direct reply; be evasive (with); parry
to deal in stolen goods
mend one's fences
☆
to engage in politicking; look after one's political interests
on the fence
☆
uncommitted or undecided in a controversy