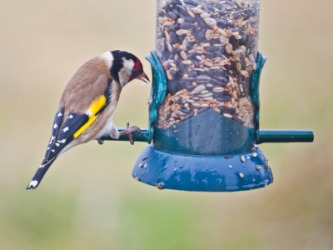 A bird eats from a feeder.
Licensed from iStockPhoto
---
noun
a person or thing that feeds; specif.,

a device that feeds material into a machine
a device that supplies food to animals or birds

an animal, esp. a steer, being fattened
anything that supplies or leads into something else; tributary; specif., a branch transportation line (in full )

Elec.

a conductor supplying current or signals to a substation, antenna, etc.
Webster's New World College Dictionary
Copyright © 2010 by Wiley Publishing, Inc., Cleveland, Ohio.
Used by arrangement with John Wiley & Sons, Inc.
---
noun
One that supplies food: a bird feeder on a window ledge.
One that is fed, especially an animal that is being fattened for market.
A worker or device that feeds materials into a machine for further processing.
Something that contributes to the operation, maintenance, or supply of something else, especially:

a. A tributary stream.

b. A branch line of a transport system, as of an airline or a railroad.

Any of the medium-voltage lines used to distribute electric power from a substation to consumers or to smaller substations.
A transmission line between an antenna and a transmitter.
The American Heritage® Dictionary of the English Language
, 4th edition Copyright © 2010 by Houghton Mifflin Harcourt Publishing Company. Published by Houghton Mifflin Harcourt Publishing Company. All rights reserved.