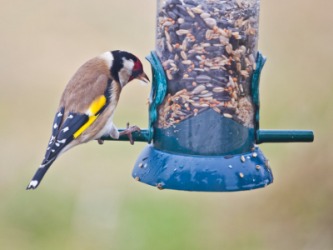 A bird eats from a feeder.
---
feeder definition by Webster's New World
noun
a person or thing that feeds; specif.,

a device that feeds material into a machine
a device that supplies food to animals or birds

an animal, esp. a steer, being fattened
anything that supplies or leads into something else; tributary; specif., a branch transportation line (in full )

Elec.

a conductor supplying current or signals to a substation, antenna, etc.
Webster\'s New World College Dictionary Copyright © 2010 by Wiley Publishing, Inc., Cleveland, Ohio. Used by arrangement with John Wiley & Sons, Inc.
---
feeder definition by American Heritage Dictionary
noun
One that supplies food: a bird feeder on a window ledge.
One that is fed, especially an animal that is being fattened for market.
A worker or device that feeds materials into a machine for further processing.
Something that contributes to the operation, maintenance, or supply of something else, especially:

a. A tributary stream.

b. A branch line of a transport system, as of an airline or a railroad.

Any of the medium-voltage lines used to distribute electric power from a substation to consumers or to smaller substations.
A transmission line between an antenna and a transmitter.
The American Heritage® Dictionary of the English Language, 4th edition Copyright © 2010 by Houghton Mifflin Harcourt Publishing Company. Published by Houghton Mifflin Harcourt Publishing Company. All rights reserved.
---
feeder definition by Wiktionary
Noun
(plural feeders)
That which feeds.
That which is used to feed.

a bird feeder

A branch line of a railway
A transmission line that feeds the electricity for an electricity substation, or for a transmitter.
(baseball, slang, archaic, 1800s) The pitcher.
(video games, derogatory) A player who is killed by the opposing player or team more than once through lack of skills and experience, thus helping the opposing side.

Stop feeding! You feeder.

The participant in feederism who feeds the other (the feedee).