equity

eq·ui·ty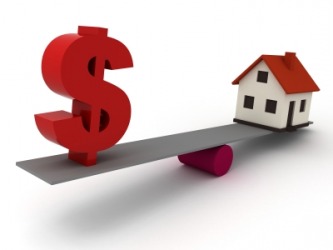 This home has little equity.
noun
The definition of equity is fairness, or the value of stock shares in a company, or the value of a piece of property minus any amount owed to the bank.

When two people are treated the same and paid the same for doing the same job, this is an example of equity.
When you own 100 shares of stock in a company, this is an example of having equity in the company.
When your house is worth $100,000 and you owe the bank $80,000, this is an example of having $20,000 in equity.
---
equity
noun
pl.
-·ties
fairness; impartiality; justice
anything that is fair or equitable
the value of property beyond the total amount owed on it in mortgages, liens, etc.

assets minus liabilities; net worth; capital
that portion of a company's net worth belonging to its owners or shareholders: shareholders' equity
[pl.] shares of stock: bonds and equities

Law

resort to general principles of fairness and justice whenever existing law is inadequate
a system of rules and doctrines, as in the U.S., supplementing common and statute law and superseding such law when it proves inadequate for just settlement
a right or claim recognized in a court of equity
equity of redemption
Origin of equity
Middle English
equite
from Old French
équité
from Classical Latin
aequitas
, equality from
aequus
: see equal
of or relating to stocks, stock markets, etc.: equity financing
---
equity
noun
pl.
eq·ui·ties
The state or quality of being just and fair.
Something that is just and fair.
Law

a. Justice achieved not simply according to the strict letter of the law but in accordance with principles of substantial justice and the unique facts of the case.

c. An equitable right or claim: an analysis of the equities and inequities brought about by the current trade bill.

a. Ownership interest in a corporation, property, or other holding, usually calculated as the value of the holding after subtracting any debt or liabilities.

b. equities Shares of common stock or preferred stock.

The value of a brand's reputation.
adjective
Representing an ownership interest: an equity stake.
Of or relating to stocks: an equity mutual fund.
Subordinated to all other claims on income, earnings, or assets: the equity tranche.
Origin of equity
Middle English
equite
from
Old French
from
Latin
aequitās
from
aequus
even, fair
---
equity

Noun
(countable and uncountable, plural equities)
(law) A legal tradition that deals with remedies other than monetary relief, such as injunctions, divorces and similar actions.
(law) Value of property minus liens or other encumbrances.
(law) An equitable claim; an equity of redemption.

an equity to a settlement, or wife's equity, etc.

(accounting) Ownership interest in a company as determined by subtracting liabilities from assets.
Justice, impartiality or fairness.
Origin
Attested in the 14th Century CE; from Old French equité, from Latin aequitatem ("conformity", "evenness", "fairness").
---
equity - Investment & Finance Definition
Stock, either common or preferred.
The difference between the value of a house, or other real estate, and the amount owed on the mortgage.
An ownership stake in a partnership or joint venture.
---
equity - Legal Definition
n
Fair dealing under widely held moral principles, often embodied in court precedents; a body of common law founded on such principles, providing special remedies, such as injunctions, in cases where monetary damages are not available or will not suffice.
---