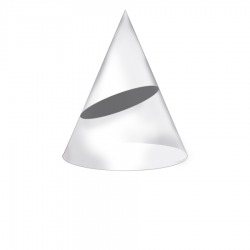 The dark circle within the cone is an ellipse.
noun
The definition of an ellipse is a path taken or a shape that results when a flat plane intersects a cone in a direction which is not parallel to the base of the cone.

An example of an ellipse are the rings of Saturn.
---
ellipse
noun
pl.
-·lip′ses·
Geom.
the path of a point that moves so that the sum of its distances from two fixed points, the foci, is constant; closed curve formed by the section of a cone cut by a plane less steeply inclined than the side of the cone
Origin of ellipse
Modern Latin
ellipsis
from Classical Greek
elleipsis
, a defect, ellipse from
elleipein
, to fall short from
en-
, in +
leipein
, to leave (see loan): so named from falling short of a perfect circle

---
ellipse
noun
A plane curve, especially:

a. A conic section whose plane is not parallel to the axis, base, or generatrix of the intersected cone.

b. The locus of points for which the sum of the distances from each point to two fixed points is equal.

Ellipsis.
Origin of ellipse
French
from
Latin
ellīpsis
from
Greek
elleipsis
a falling short, ellipse
from
elleipein
to fall short (from the relationship between the line joining the vertices of a conic and the line through the focus and parallel to the directrix of a conic)
en-
in
; see
en-
2
.
leipein
to leave
; see
leikw-
in Indo-European roots.
---
ellipse

Verb
(third-person singular simple present ellipses, present participle ellipsing, simple past and past participle ellipsed)
---