cone
[

kōn

]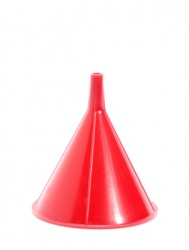 This funnel is a cone.
noun
The definition of a cone is anything with a circular surface on one end and one point at the other end where all sides or lines meet, or the reproductive, seed-bearing growth of a pine tree.

An example of a cone is a funnel.
An example of a cone is the waffle pastry in which ice cream is served.
An example of a cone is the brown scaly growth which is attached to wreathes.
---
cone
noun
a flat-based, single-pointed solid formed by a rotating straight line that traces out a closed-curved base from a fixed vertex point that is not in the same plane as the base; esp., one () formed by tracing a circle from a vertex perpendicular to the center of the base (also formed by rotating a right triangle 360° with either leg as the axis, or by rotating an isosceles triangle 360° with the altitude as the axis)
the surface of such a solid
a similar unbounded surface extending outward in both directions from a point: it is formed by rotating in an elliptical or circular pattern a straight line that always passes through this point

any object or mass shaped like a cone; specif.,

a crisp shell of pastry for holding a scoop of ice cream
the peak of a volcano
any of various machine parts

Bot.

a reproductive structure of certain nonflowering plants, consisting of an elongated central axis upon which are borne overlapping scales, bracts, sporophylls, etc., usually in a spiral fashion, and in which are produced pollen, spores, or ovules; strobilus: cones are found in cycads, conifers, club mosses, horsetails, etc.
any similar structure, as the catkin of hops

Zool.

any of the flask-shaped cells in the retina of most vertebrates, sensitive to bright light and color
cone shell

the diaphragm (sense ) of a speaker, usually cone-shaped
Origin of cone
Middle English ; from Classical Latin
conus
; from Classical Greek
kōnos,
a wedge, peak, cone ; from Indo-European base
kō(n)-,
to sharpen from source hone, Classical Latin
cos
---
cone
noun
Mathematics

a. The surface generated by a straight line, the generator, passing through a fixed point, the vertex, and moving along a fixed curve, the directrix.

b. A right circular cone.

a. The figure formed by a cone, bound or regarded as bound by its vertex and a plane section taken anywhere above or below the vertex.

b. Something having the shape of this figure: "the cone of illuminated drops spilling beneath a street lamp" (Anne Tyler).

Botany

a. A unisexual reproductive structure of most gymnospermous plants, such as conifers and cycads, typically consisting of a central axis around which there are scaly, overlapping, spirally arranged sporophylls that bear either pollen-containing structures or ovules.

b. A similar, spore-producing structure of club mosses, horsetails, and spikemosses.

c. A reproductive structure resembling a cone, such as the female inflorescence of a hop plant or the woody female catkin of an alder.

Physiology One of the photoreceptors in the retina of the eye that is responsible for daylight and color vision. These photoreceptors are most densely concentrated in the fovea centralis, creating the area of greatest visual acuity.
Any of various gastropod mollusks of the family Conidae of tropical and subtropical seas that have a conical, often vividly marked shell and that inject their prey with poisonous toxins, which can be fatal to humans. Also called cone shell.
transitive verb
coned
coned
,
con·ing
,
cones
To shape (something) like a cone or a segment of one.
Origin of cone
French
cône
and Middle English
cone
,
angle of a quadrant
, both from Latin
cōnus
, from Greek
kōnos
; see
kō-
in Indo-European roots.
cone
top: right circular cone
bottom: cones and rods of a human eye
cone
---
cone
Noun
(plural cones)
(geometry) A surface of revolution formed by rotating a segment of a line around another line that intersects the first line.
(topology) A space formed by taking the direct product of a given space with a closed interval and identifying all of one end to a point.
Anything shaped like a cone.
The fruit of a conifer.
An ice cream cone.
A unit of volume, applied solely to marijuana and only while it is in a smokable state; roughly 1.5 cubic centimetres, depending on use.
Any of the small cone-shaped structures in the retina.
(slang) A passenger on a cruise ship (so-called by employees after traffic cones, from the need to navigate around them)
(category theory) Given a diagram F : J → C, a cone consists of an object N of C, together with a family of morphisms ψX : N → F(X) indexed by all of the objects of J, such that for every morphism f : X → Y in J. Then N is the vertex of the cone, whose sides are all the ψX indexed by Ob(J) and whose base is F. The cone is said to be "from N to F" and can be denoted as (N, ψ).

«Let J be an index category which has an initial object I. Let F be a diagram of type J in C. Then category C contains a cone from F(I) to F.»
«If category C has a cone from N to F and a morphism from M to N, then category C also has a cone from M to F.»

A set of formal languages with certain desirable closure properties, in particular those of the regular languages, the context-free languages and the recursively enumerable languages.
Verb
(third-person singular simple present cones, present participle coning, simple past and past participle coned)
(pottery) To fashion into the shape of a cone.
Origin
From Middle French cone, from Latin conus ("cone, wedge, peak"), from Ancient Greek κώνος (konos, "cone, spinning top, pine cone")
See also:
cône
---