noun
The definition of a cone is anything with a circular surface on one end and one point at the other end where all sides or lines meet, or the reproductive, seed-bearing growth of a pine tree.

An example of a cone is a funnel.
An example of a cone is the waffle pastry in which ice cream is served.
An example of a cone is the brown scaly growth which is attached to wreathes.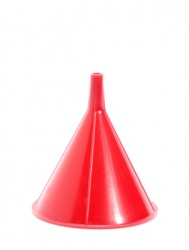 This funnel is a cone.
---
cone definition by Webster's New World
noun
a flat-based, single-pointed solid formed by a rotating straight line that traces out a closed-curved base from a fixed vertex point that is not in the same plane as the base; esp., one () formed by tracing a circle from a vertex perpendicular to the center of the base (also formed by rotating a right triangle 360° with either leg as the axis, or by rotating an isosceles triangle 360° with the altitude as the axis)
the surface of such a solid
a similar unbounded surface extending outward in both directions from a point: it is formed by rotating in an elliptical or circular pattern a straight line that always passes through this point

any object or mass shaped like a cone; specif.,

a crisp shell of pastry for holding a scoop of ice cream
the peak of a volcano
any of various machine parts

Bot.

a reproductive structure of certain nonflowering plants, consisting of an elongated central axis upon which are borne overlapping scales, bracts, sporophylls, etc., usually in a spiral fashion, and in which are produced pollen, spores, or ovules; strobilus: cones are found in cycads, conifers, club mosses, horsetails, etc.
any similar structure, as the catkin of hops

Zool.

any of the flask-shaped cells in the retina of most vertebrates, sensitive to bright light and color
cone shell

the diaphragm (sense ) of a speaker, usually cone-shaped
Origin: Middle English ; from Classical Latin conus ; from Classical Greek kōnos, a wedge, peak, cone ; from Indo-European base kō(n)-, to sharpen from source hone, Classical Latin cos
Webster's New World College Dictionary Copyright © 2010 by Wiley Publishing, Inc., Cleveland, Ohio. Used by arrangement with John Wiley & Sons, Inc.
---
cone definition by American Heritage Dictionary
noun
Mathematics

a. The surface generated by a straight line, the generator, passing through a fixed point, the vertex, and moving along a fixed curve, the directrix.

b. A right circular cone.

a. The figure formed by a cone, bound or regarded as bound by its vertex and a plane section taken anywhere above or below the vertex.

b. Something having the shape of this figure: "the cone of illuminated drops spilling beneath a street lamp" (Anne Tyler).

Botany

a. A unisexual reproductive structure of gymnospermous plants such as conifers and cycads, typically consisting of a central axis around which there are scaly, overlapping, spirally arranged sporophylls that develop pollen-bearing sacs or naked ovules or seeds.

b. A similar structure that produces spores on club mosses, horsetails, and spike mosses.

c. Any reproductive structure resembling a cone, such as a cluster of hop or alder fruits.

Physiology One of the photoreceptors in the retina of the eye that is responsible for daylight and color vision. These photoreceptors are most densely concentrated in the fovea centralis, creating the area of greatest visual acuity.
Any of various gastropod mollusks of the family Conidae of tropical and subtropical seas, having a conical, often vividly marked shell and the ability to inflict a poisonous, sometimes fatal sting.
transitive verb
coned
coned
,
con·ing
,
cones
To shape (something) like a cone or a segment of one.
Origin: French cône and Middle English cone, angle of a quadrant, both from Latin cōnus, from Greek kōnos; see kō- in Indo-European roots.
cone
top: right circular cone
bottom: cones and rods of a human eye
The American Heritage® Dictionary of the English Language, 4th edition Copyright © 2010 by Houghton Mifflin Harcourt Publishing Company. Published by Houghton Mifflin Harcourt Publishing Company. All rights reserved.
---
cone - Medical Definition
noun
A solid body having a circle for its base and sides inclined so as to meet at a point above the base.
See cone cell.
cone
detail of a retina showing cone and rod cells
The American Heritage® Medical Dictionary Copyright © 2010 by Houghton Mifflin Harcourt Publishing Company. Published by Houghton Mifflin Harcourt Publishing Company. All rights reserved.
---
cone - Science Definition
A three-dimensional surface or solid object in which the base is a circle and upper surface narrows to form a point. The surface of a cone is formed mathematically by moving a line that passes through a fixed point (the vertex) along a circle.
A rounded or elongated reproductive structure that consists of sporophylls or scales arranged spirally or in an overlapping fashion along a central stem, as in conifers and cycads. For example, the familiar woody pinecone is actually the female cone, made up of ovule-bearing scales. The smaller male cones of the pine consist of thin overlapping microsporophylls. These produce pollen that is carried by the wind to fertilize ovules in the female cones. When the seeds in the female cones mature, the cones of many pine species expand to release them. In some pine species, cones release seeds only in response to the presence of fire. See also strobilus.
One of the cone-shaped cells in the retina of the eye of many vertebrate animals. Cones are extremely sensitive to light and can distinguish among different wavelengths. Cones are responsible for vision during daylight and for the ability to see colors. Compare rod.
The equation for determining the volume (V) of a cone is V = 1/3 πr2h.