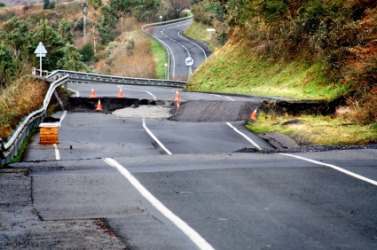 A road broken by an earthquake.
noun
The definition of an earthquake is the release of sudden and extreme energy that is caused by shifting in the Earth's crust.

Facts About Earthquakes

A seismometer is used to record and measure the strength of an earthquake.

The Mercalli scale is used to measure the earthquake. Anything seven or above is considered extremely dangerous.

Earthquakes usually occur along fault lines, or cracks that occur within the Earth's crust.

Japan, New Zealand, Alaska are all located on one side of a horseshoe-shaped fault line called the "Ring of Fire" that circles the Pacific Ocean and is responsible for frequent earthquakes and frequently erupting volcanos.

The "Ring of Fire" zone was responsible for the devastating earthquakes in Indonesia in 2004, in New Zealand in early 2011 as well as a 9.0+ quake and a series of offshore earthquakes in Japan in early 2011 which also resulted in a tsunami.

The San Andreas Fault is a fault line discovered in 1895 that stretches about one thousand and three hundred kilometers through California in the United States, and through Baja California in Mexico.

The San Andreas fault has been the cause behind a number of significant earthquakes, such as the San Francisco Earthquake in 1906, and the Loma Prieta Earthquake in 1989.

A shaking in San Francisco that measures 3.2 on the Richter scale is an example of an earthquake.
---
earthquake
a shaking or trembling of the crust of the earth, caused by underground volcanic forces or by breaking and shifting of rock beneath the surface
---
earthquake
noun
A sudden movement of the earth's crust caused by the release of stress accumulated along geologic faults or by volcanic activity. Also called seism . Also called temblor .
---
earthquake

Noun
(plural earthquakes)
---