doe

DOE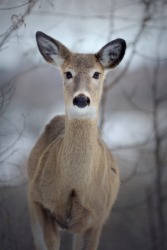 A female deer is a doe.
noun
The definition of a doe is a female deer, goat, hare or kangaroo.

A deer that you see when you are out walking in the woods that has no antlers is a female, which is an example of a doe.
---
doe
noun
pl.

does

or
the female deer, antelope, rabbit, goat, etc.
Origin of doe
Middle English
do
from Old English
da
, akin to Alemannic
te
from Indo-European base an unverified form
dome-
, tame
Doe
a name (John Doe, Jane Doe) used in law courts, legal papers, etc. to refer to any person whose name is unknown
DOE
---
doe
noun
pl.
doe,
or
does
A female deer.
The female of various other mammals, such as antelopes, kangaroos, mice, or rabbits.
Origin of doe
Middle English
do
from
Old English
dā
DOE
abbreviation
Department of Education
Department of Energy
---
doe

---