distraction
dis·trac·tion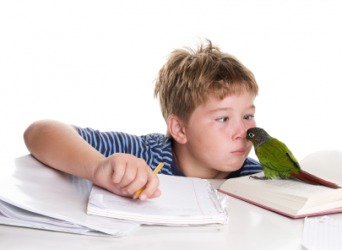 This boy's bird is a distraction from his homework.
noun
The definition of a distraction is something that takes your attention away from something on which you should be focused.

Someone passing notes in class when the teacher is talking is an example of a distraction.
---
distraction
a distracting or being distracted; confusion
anything that distracts; specif.,

a mental intrusion or cause of confusion
anything that gives mental relaxation; amusement; diversion

great mental disturbance or distress
Origin of distraction
Middle English
distraccioun
from Classical Latin
distractio
---
distraction
noun
The act of distracting, or the condition of being distracted: Inexperienced drivers are especially vulnerable to distraction. His distraction of the child worked well, and the child stopped crying.
Something that makes it difficult to pay attention or that draws attention away from familiar or everyday concerns: was annoyed by the distractions of having so many roommates; found that the shopping mall was always full of pleasant distractions.
Mental or emotional disturbance; agitation or confusion: loved the puppy to distraction; was driven to distraction by the noisy neighbors.
---
distraction

Noun
(plural distractions)
---