noun
The definition of a depot is a terminal or storage station, or a place where buses and trains come.

A central hub or central station for storing goods is an example of a depot.
The area where buses and trains all come to pick up passengers is an example of a depot.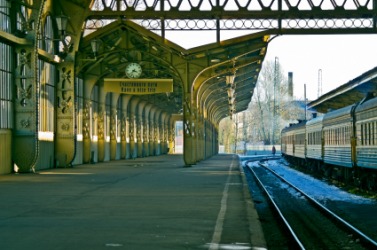 A train depot.
---
depot definition by Webster's New World
noun
a storehouse; warehouse
☆ a railroad or bus station: originally used of a freight station

Mil.

a storage place for supplies
a station for assembling either recruits for training or combat replacements for assignment to a unit
Origin: French dépôt, a deposit, storehouse ; from Classical Latin depositum: see deposit
Webster's New World College Dictionary Copyright © 2010 by Wiley Publishing, Inc., Cleveland, Ohio. Used by arrangement with John Wiley & Sons, Inc.
---
depot definition by American Heritage Dictionary
noun
A railroad or bus station.
A warehouse or storehouse.

a. A storage installation for military equipment and supplies.

b. A station for assembling military recruits and forwarding them to active units.
Origin: French dépôt, from Old French depost, from Latin dēpositum, something deposited, from neuter past participle of dēpōnere, to put down, deposit; see depone.