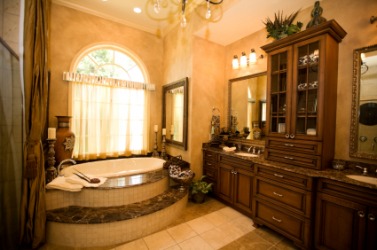 A deluxe bathroom.
adjective
The definition of deluxe is very high quality, luxurious or elegant.

An example of deluxe is a high end blender.
adverb
Deluxe is defined as something done in a classy and elegant way.

An example of deluxe is sleeping in very high count bed sheets; sleeping deluxe.
---
deluxe
of extra fine quality; luxurious; sumptuous; elegant
Origin of deluxe
Fr, literally , of luxury
---
deluxe
also de luxe
adjective
Particularly elegant, luxurious, or elaborate for its kind; of superior quality or refinement: deluxe accommodations; a de luxe automobile; a hamburger deluxe.
adverb
In an elegant and luxurious manner; sumptuously: traveling deluxe.
Origin of deluxe
French
de luxe
of luxury
de
of
luxe
luxury
---
deluxe

Adjective
(comparative more deluxe, superlative most deluxe)
Being very fine in quality or luxurious.
---