cough

cough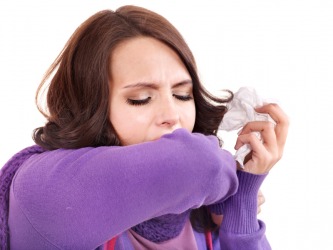 This woman has a cough.
verb
The definition of cough is to force air loudly, without warning through the opening between the vocal cords.

An example of to cough is clearing a tickle in your throat.
---
cough
to expel air suddenly and noisily from the lungs through the glottis, to clear the air passages or as the result of an involuntary muscle spasm in the throat
to make a sound like this
Origin of cough
Middle English
coughen,
akin to Middle Dutch
cuchen,
to cough, German
keuchen,
to gasp
to expel by coughing
to express or utter by coughing
the act or sound of coughing
a condition, as of the lungs or throat, causing frequent coughing
cough up
to bring up or eject (phlegm, food, etc.) by coughing

Slang

to hand over (money or the like)
---
cough
verb
coughed, cough·ing, coughs
verb
intransitive
To expel air from the lungs suddenly and noisily, often to keep the respiratory passages free of irritating material.
To make a noise similar to noisy expulsion of air from the lungs: The engine coughed and died.
verb
transitive
To expel by coughing: coughed up phlegm.
noun
The act of coughing.
An illness marked by frequent coughing.
Phrasal Verbs:
cough up
Slang
To hand over or relinquish (money or another possession), often reluctantly.To confess or disclose:
When he saw that the police might arrest him, he coughed up the details of what he had seen.
Sports
a. To lose possession of (the ball or puck), especially because of defensive pressure from the opposing team.
b. To fail to maintain (a lead in a game).
Origin of cough
Middle English
coughen
ultimately of imitative origin
---
cough

Verb
(third-person singular simple present coughs, present participle coughing, simple past and past participle coughed)
To push air from the lungs in a quick, noisy explosion.

I breathed in a load of smoke by mistake, and started to cough.

To make a noise like a cough.

The engine coughed and sputtered.
Noun
(plural coughs)
A sudden, usually noisy expulsion of air from the lungs, often involuntary.

Behind me, I heard a distinct, dry cough.

A condition that causes one to cough; a tendency to cough.

Sorry, I can't come to work today – I've got a nasty cough.
Origin
From Middle English coughen, coghen, from Old English *cohhian (compare Old English cohhetan ("to shout")), from Proto-Germanic *kuh-. Cognate with Dutch kuchen ("to cough"), German keuchen ("to pant"), Albanian hukat ("pant, gasp").
---