cougar
[ko̵̅o̅′gər, -gär′]
noun
The definition of a cougar is an older woman who dates much younger men.

An example of a cougar is Demi Moore who, for many years, was married to Ashton Kutcher who was several years younger than Demi.

A cougar is defined as a large powerful tan colored cat with a slender body and long tail.

An example of cougar is a mountain lion.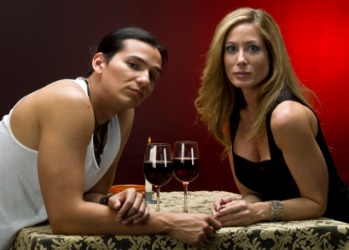 This woman could be called a cougar.
---
cougar definition by Webster's New World
noun
pl. cougars or cougar
a large, powerful, tawny cat (Puma concolor) with a long, slender body and a long tail; puma; mountain lion: it was once found widely from Canada to Patagonia but is now considered an endangered species
Origin: French couguar, contr. (by Comte de Buffon) ; from cuguacuara, faulty transcription of Portuguese çuçuarana, for Tupí susuarana, literally , false deer ; from suusú, deer plush rana, false: so named from its color
Webster's New World College Dictionary Copyright © 2010 by Wiley Publishing, Inc., Cleveland, Ohio. Used by arrangement with John Wiley & Sons, Inc.
---
cougar definition by American Heritage Dictionary
noun
Chiefly Western U.S.
Origin: French couguar, alteration (influenced by jaguar, jaguar) of Portuguese çuçuarana, from Tupi suasuarana : suasú, deer + rana, like (from its color).
cougar
Variant of cougar
noun
pl. cougars or cougar
a large, powerful, tawny cat (Puma concolor) with a long, slender body and a long tail; puma; mountain lion: it was once found widely from Canada to Patagonia but is now considered an endangered species
Origin: French couguar, contr. (by Comte de Buffon) ; from cuguacuara, faulty transcription of Portuguese çuçuarana, for Tupí susuarana, literally , false deer ; from suusú, deer plush rana, false: so named from its color