cougar

cou·gar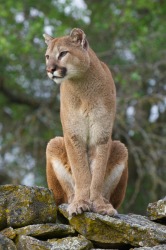 This is a cougar.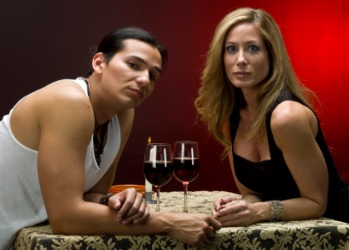 This woman could be called a cougar.
noun
The definition of a cougar is an older woman who dates much younger men.

An example of a cougar is Demi Moore who, for many years, was married to Ashton Kutcher who was several years younger than Demi.

A cougar is defined as a large powerful tan colored cat with a slender body and long tail.

An example of cougar is a mountain lion.
---
cougar
noun
pl.

-·gars

or

-·gar
a large, powerful, tawny cat (Puma concolor) with a long, slender body and a long tail; puma; mountain lion: it was once found widely from Canada to Patagonia but is now an endangered species

Slang

an older, typically middle-aged, woman who dates or aggressively pursues much younger men
Origin of cougar
French
couguar,
contr. (by the Comte de Buffon) from
cuguacuara,
faulty transcription of Portuguese
çuçuarana,
for Tupí
susuarana,
literally , false deer from
suusú,
deer +
rana,
false: so named from its color
---
cougar
noun
A large powerful wild cat (Puma concolor syn. Felis concolor) chiefly of mountainous regions of the Americas, having an unmarked tawny body and a long tail. Also called catamount . Also called mountain cat . Also called mountain lion . Also called panther . Also called puma . Also called Also called regionally painter .
Slang A woman, especially one over 30, who romantically pursues or attracts younger men.
Origin of cougar
French
couguar
alteration
(
influenced by
jaguar
jaguar
)
of
Portuguese
çuçuarana
from
Tupí
suasuarana
suasú
deer
rana
like (from its color)
---
cougar

Noun
(plural cougars)
A mountain lion; Puma concolor.
(North America, slang) A woman of middle age who actively seeks the casual, often sexual, companionship of younger men, typically less than 35 years old; by implication a female "sexual predator".

A cougar approached Warren at the Palomino Club and asked for a dance.
Origin
French cougar, from Brazilian Portuguese suçuarana, perhaps from Tupian (suasuarana ("deerlike animal"), from suasú ("deer"); compare sɨwasuarána ("cervine")) or perhaps form Guaraní (guaçuara).
---