concentration
con·cen·tra·tion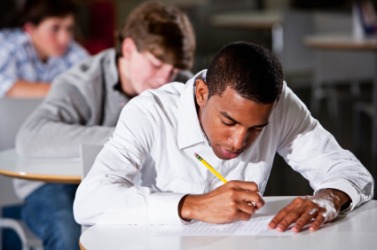 This student exhibits concentration towards his work.
noun
The definition of concentration means the amount of ingredients or parts in relation to the other ingredients or parts.

An example of concentration is the amount of salt to water in a saltwater solution.

Concentration is defined as close mental attention to something.

An example of concentration is a student focusing all of her after school time on a specific research paper.
---
concentration
a concentrating or being concentrated
close or fixed attention
strength or density, as of a solution
a concentrated substance
Origin of concentration
Medieval Latin
concentratio
---
concentration
noun
a. The act or process of concentrating, especially the fixing of close, undivided attention.

b. The condition of being concentrated.

Something that has been concentrated.
Chemistry The amount of a specified substance in a unit amount of another substance.
---
concentration

Noun
(usually uncountable, plural concentrations)
The act, process or ability of concentrating; the process of becoming concentrated, or the state of being concentrated.

The direction of attention to a specific object.
The act, process or product of reducing the volume of a liquid, as by evaporation.
The act or process of removing the dress of ore and of reducing the valuable part to smaller compass, as by currents of air or water.

A field or course of study on which one focuses, especially as a student in a college or university.
The proportion of a substance in a whole.

(chemistry) The amount of solute in a solution measured in suitable units (e.g., parts per million (ppm))
---
concentration - Computer Definition
In communications, the combining of multiple channels into one.
---