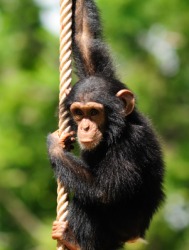 A young chimpanzee hanging from a rope.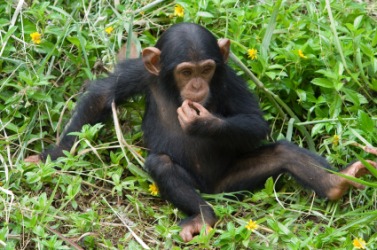 The chimpanzee is an anthropoid.
---
chimpanzee definition by Webster's New World
noun
any of a genus (Pan) of great apes of Africa, with black hair and large, protruding ears: it is smaller than a gorilla and is noted for its intelligence
Origin: French chimpanzé ; from Bantu (Angola) kampenzi
Webster's New World College Dictionary Copyright © 2010 by Wiley Publishing, Inc., Cleveland, Ohio. Used by arrangement with John Wiley & Sons, Inc.
---
chimpanzee definition by American Heritage Dictionary
noun
A gregarious anthropoid ape (Pan troglodytes) of tropical Africa, having long dark hair and somewhat arboreal habits and exhibiting humanlike behavior and a high degree of intelligence. It is now considered vulnerable to extinction in the wild.
Origin: Portuguese, from Vili (Bantu language of Congo) ci-mpenzi.