anthropoid
[an′t̸hrə po̵id′]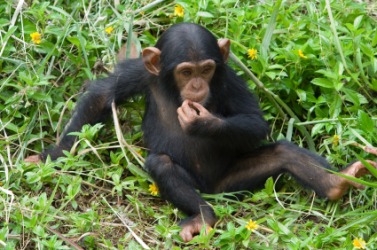 The chimpanzee is an anthropoid.
---
anthropoid
adjective
resembling a human
apelike: a brutish man with anthropoid features
Origin of anthropoid
Classical Greek
anthrōpoeidēs
: see anthropo- and amp; -oid
noun
any of certain highly developed primates, esp. the chimpanzee, gorilla, orangutan, and gibbon: in some classification systems, any of a suborder (Anthropoidea) of primates
---
anthropoid
adjective
Of or belonging to the primate suborder Anthropoidea, which consists of the New World monkeys, Old World monkeys, and apes including humans.
Resembling a human, especially in shape or outward appearance.
Resembling or characteristic of a nonhuman ape; apelike: an anthropoid forehead.
noun
A primate of the suborder Anthropoidea.
Related Forms:
an′thro·poi′dal

adjective
---
anthropoid
Adjective
(comparative more anthropoid, superlative most anthropoid)
having characteristics of a human being, usually in terms of shape or appearance
having characteristics of an ape
Noun
(plural anthropoids)
An anthropoid animal.
---