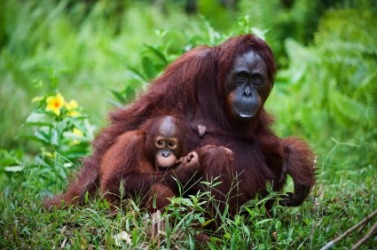 A mother orangutan and her baby.
---
orangutan definition by Webster's New World
noun
a great ape (
Pongo pygmaeus
) with shaggy, reddish-brown hair, very long arms, small ears, and a hairless face: it is smaller than the gorilla and is found only in the swampy, coastal jungles of Borneo and Sumatra
Origin: Malay oraṅ utan, literally , man of the forest ; from oraṅ, man plush utan, forest, term for savage tribes: first applied to the ape by Europeans
Webster's New World College Dictionary Copyright © 2010 by Wiley Publishing, Inc., Cleveland, Ohio. Used by arrangement with John Wiley & Sons, Inc.
---
orangutan definition by American Heritage Dictionary
also o·rang·ou·tang
noun
An arboreal anthropoid ape (Pongo pygmaeus) of Borneo and Sumatra, having a shaggy reddish-brown coat, very long arms, and no tail.
Origin: Malay orang hutan : orang, man + hutan, wilderness, jungle.