cherry

cher·ry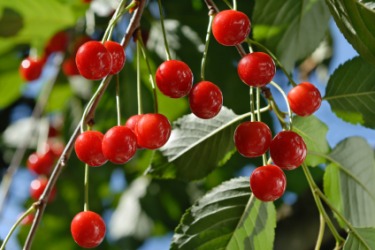 Ripe cherries on the tree.
adjective
The definition of cherry is bright red, or something made of this fruit or wood.

An example of something cherry-colored are Santa Claus' cheeks.
noun
Cherry is defined as a small, fleshy fruit that has a hard pit and ranges in color from yellow to deep, dark red, or the wood of the tree that bears this fruit.

An example of a cherry is what goes on the top of an ice cream sundae.
---
cherry
noun
pl.
-·ries
a small, fleshy fruit containing a smooth, hard pit and ranging from yellow to very dark red, including sweet, sour, and duke cherries
any of various prunus trees that bear this fruit
the wood of such a tree
the bright-red color of certain cherries

Slang

: mildly vulgar

the hymen
virginity
Origin of cherry
Middle English
cheri
from Anglo-French
cherise
(taken as plural ) from Old French
cerise
from Vulgar Latin an unverified form
ceresia
from Classical Greek
kerasion
, cherry from
kerasos
, cherry tree from uncertain or unknown; perhaps Indo-European base an unverified form
ker-
; derived by the ancients from
Cerasus
, city on the Black Sea: the city's name is itself from the cherries grown in the area
bright-red
made of cherry wood
made with cherries
having a flavor like that of cherries

Slang

new or like new: a used car in cherry condition
---
cherry
noun
pl.
cher·ries
a. Any of various trees or shrubs of the genus Prunus of the rose family, especially the sweet cherry or the sour cherry, native chiefly to northern temperate regions and having pink or white flowers and small juicy drupes.

b. The yellow, red, or blackish fruit of any of these plants.

c. The wood of any of these plants, especially the black cherry.

d. Any of various plants, such as the Barbados cherry or the cornelian cherry, having fruits resembling a cherry.

A moderate or strong red to purplish red.
Vulgar Slang The hymen considered as a symbol of virginity.
adjective
Containing or having the flavor of cherries.
Made of the wood of a cherry tree: a cherry cabinet.
Of a moderate or strong red to purplish red.
Origin of cherry
Middle English
cheri
from
Anglo-Norman
cherise
variant of
Old French
cerise
from
Vulgar Latin
ceresia
from
cerasia
from
Greek
kerasiā
cherry tree
from
kerasos
---
cherry

---