cheek

cheek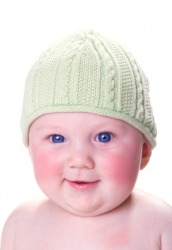 A baby with bright pink cheeks.
noun
The definition of a cheek means the soft fleshy part on the side of the face or the buttocks, or a bold and disrespectful attitude.

An example of a cheek is the part of your face to which you apply blush.
An example of cheek is talking back to your parents when they ask you to do a chore.
---
cheek
either side of the face between the nose and ear, below the eye
either of two sides of a thing, as the sides of a doorjamb or the jaws of a vise: usually used in pl.
either of the buttocks

Informal

disrespectful boldness; sauciness; effrontery; impudence
Origin of cheek
Middle English
cheke
from Old English
ceoke
, jaw, jawbone; akin to Dutch
kaak
, Low German
kâke
, jaw (only WGmc)
Brit., Informal
to speak insolently to
cheek by jowl
close together; intimately
turn the other cheek
to bear an insult or injury humbly and refrain from retaliating
Origin of cheek
in allusion to Matt. 5:39
---
cheek
noun
The fleshy part of either side of the face below the eye and between the nose and ear.
Something resembling the cheek in shape or position.
Either of the buttocks.
Impertinent boldness: had the cheek to insult his hosts.
transitive verb
cheeked, cheek·ing, cheeks
Informal
To speak impudently to.
Origin of cheek
Middle English
cheke
from
Old English
cēace
---
cheek

Noun
(plural cheeks)
(anatomy) The soft skin on each side of the face, below the eyes; the outer surface of the sides of the oral cavity.
(informal, usually in the plural) A buttock.
(informal) Impudence.

You've got some cheek, asking me for money!

The pieces of a machine, or of timber or stonework, that form corresponding sides or a similar pair.

the cheeks of a vice; the cheeks of a gun carriage

(metalworking) The middle section of a flask, made so that it can be moved laterally, to permit the removal of the pattern from the mould.
Verb
(third-person singular simple present cheeks, present participle cheeking, simple past and past participle cheeked)
To be impudent towards.

Don't cheek me, you little rascal!
Proper noun
The word Cheek is also an old family surname from Anglo-Saxon England that predates the Norman invasion. The Cheek family was among the first to immigrate to the US colonies in the early 17th century. The family crest is a white shield with three red crescents.
---