beard

beard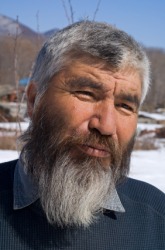 A man with a beard.
noun
The definition of beard means hair on the face of a man.

The facial hair on a lumberjack is an example of a beard.
---
beard
the hair growing on the lower part of a man's face; whiskers
this hair, esp. on the chin and cheek, when worn long or trimmed in various shapes
any beardlike part, as of certain animals
a hairy outgrowth on the head of certain grains, grasses, etc.; awn
anything that projects like a beard, as a barb or hook
the part of a printing type that lies between the face and shoulder

Slang

a person who acts as a cover (noun) for another in public settings; specif., one who assumes the role of spouse or sweetheart so as to conceal the homosexuality of a well-known person
Origin of beard
Middle English and Old English from Indo-European an unverified form
bhardh?
from source Classical Latin
barba
, Russian
boroda
, Germanic an unverified form
barda
, German
bart
to face or oppose courageously or brazenly, as if grasping by the beard; defy
to provide with a beard
Beard
1874-1948; U.S. historian

1850-1941; U.S. writer & illustrator: a founder of the Boy Scouts of America

1876-1958; U.S. historian: collaborated with husband Charles Austin
---
beard
noun
A growth of hair on the chin, cheeks, and throat of a person, especially a man.
A tuft or growth of hairs, bristles, or other hairlike threads on a plant or animal.
One who serves to divert suspicion or attention from another, especially a person of the opposite sex who accompanies a gay man or lesbian to give the impression of heterosexuality.
Printing The raised slope on a piece of type between the shoulder or counter and the face. Also called neck .
transitive verb
beard·ed, beard·ing, beards
To furnish with a beard.
To confront boldly.
Origin of beard
Middle English
berd
from
Old English
beard
; see
bhardh-ā-
in Indo-European roots.
Related Forms:
beard
top: on wheat
bottom: on a male turkey's breast
beard
---
beard

Verb
(third-person singular simple present beards, present participle bearding, simple past and past participle bearded)
To boldly and bravely oppose or confront, often to the chagrin of the one being bearded.

Robin Hood is always shown as bearding the Sheriff of Nottingham.

To take by the beard; to seize, pluck, or pull the beard of (a man), in anger or contempt.
To deprive (an oyster or similar shellfish) of the gills.
Origin
From Middle English berd, from Old English beard, from Proto-Germanic *bardaz (compare West Frisian burd, Dutch baard, German Bart), from Proto-Indo-European *bʰardʰ-eh₂ (compare Latin barba, Lithuanian barzda, Russian борода (borodá)).
Origin
Originally a nickname for someone with a beard.
---