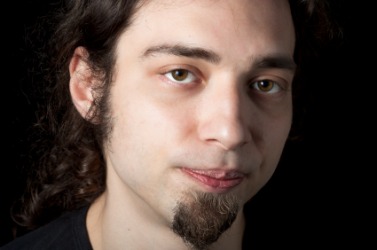 A young man wearing a goatee.
Licensed from iStockPhoto
---
☆
noun
a small, pointed beard on a man's chin
Origin: from goat plush -ee: from the resemblance to a goat's beard
Webster's New World College Dictionary
Copyright © 2010 by Wiley Publishing, Inc., Cleveland, Ohio.
Used by arrangement with John Wiley & Sons, Inc.
---
noun
A small chin beard trimmed into a point.
Origin: Alteration of goaty, from goat (from its resemblance to a goat's beard).
Word History:
When assessing American contributions to the English language and to fashion, let us not forget the
goatee.
Early comments on this style of beard appear first in American writings, making this word an Americanism. Although the style raises few eyebrows now, the early comments were not favorable:
"One chap's . . . rigged out like a show monkey, with a little tag of hair hangin down under his chin jest like our old billy goat, that's a leetle too smart for this latitude, I think."
This 1842 description, found in William Tappan Thompson's
Major Jones's Courtship,
also reveals the etymology of the word. The first recorded occurrence of the word itself, found in Daniel Lee and Joseph H. Frost's
Ten Years in Oregon
(1844), also sounds disapproving:
"A few individuals . . . leave what is called, by some of their politer neighbors, a 'goaty' under the chin."
The American Heritage® Dictionary of the English Language
, 4th edition Copyright © 2010 by Houghton Mifflin Harcourt Publishing Company. Published by Houghton Mifflin Harcourt Publishing Company. All rights reserved.