caterpillar
Cat·er·pil·lar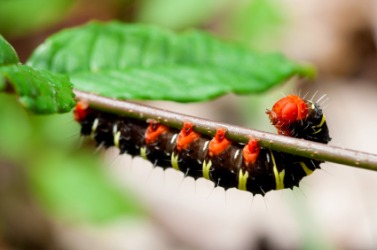 A colorful caterpillar on a leaf.
noun
The definition of a caterpillar is the wormlike larvae of a moth or a butterfly.

A little hairy worm-like animal that will build a cocoon and eventually become a butterfly is an example of a caterpillar.
---
caterpillar
the wormlike larva of various insects, esp. of a butterfly or moth
Origin of caterpillar
Middle English
catirpel
; from Norman French
catepilose
(OFr
chatepelose
), literally , hairy cat ; from Classical Latin
catta
, cat +
pilosus
; from
pilus
, hair: see pile
a tractor equipped on each side with a continuous roller belt over cogged wheels, for moving over rough or muddy ground
---
caterpillar
noun
The wormlike larva of a butterfly or moth.
Any of various insect larvae similar to those of the butterfly or moth.
Origin of caterpillar
Middle English
catirpel, catirpeller
, probably alteration of Old North French
*catepelose
:
cate
,
cat
(from Latin
cattus
) +
pelose
,
hairy
(from Latin
pil&omacron;sus
; see
pilose
).
Word History:
Larvae of moths and butterflies are popularly seen as resembling other, larger animals. Consider the Italian dialect word
gatta,
"cat, caterpillar"; the German dialect term
t&udie;felskatz,
"caterpillar" (literally "devil's cat"); the French word
chenille,
"caterpillar" (from a Vulgar Latin diminutive,
*can&imacron;cula,
of
canis,
"dog"); and last but not least, our own word
caterpillar,
which appears probably to have come from an unattested Old North French word
*catepelose,
meaning literally "hairy cat." Our word
caterpillar
is first recorded in English in 1440 in the form
catyrpel. Catyr,
the first part of
catyrpel,
may indicate the existence of an English word
*cater,
meaning "tomcat," otherwise attested only in
caterwaul. *Cater
would be cognate with Middle High German
kater
and Dutch
kater.
The latter part of
catyrpel
seems to have become associated with the word
piller,
"plunderer." By giving the variant spelling –
ar,
Samuel Johnson's influential
Dictionary
set the spelling
caterpillar
with which we are familiar today.
caterpillar
death's-head hawkmoth caterpillar
Acherontia atropos
Caterpillar
A trademark for a tractor equipped with continuous chain treads.
---
caterpillar
Noun
(plural caterpillars)
A vehicle with a caterpillar track; a crawler.
Origin
From Middle English catirpel, catirpeller, probably from Old Northern French catepelose (Modern French chat + pileux ("hairy cat")), from Late Latin cattus + pilōsus.
---