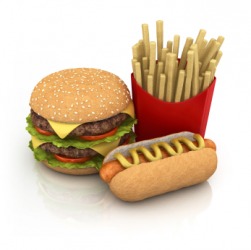 Typical fast-food.
noun
Fast food is defined as cuisine prepared by restaurants that cater more towards speed and low prices than quality or nutritional value.

An example of fast food is a McDonald's cheeseburger.
---
fast-food
☆
adjective
designating a type of restaurant that offers low-cost food that is cooked and served quickly
---
fast-food
noun
Inexpensive food, such as hamburgers and fried chicken, prepared and served quickly.
Related Forms:
---
fast-food
Adjective
(comparative more fast-food, superlative most fast-food)
Of, pertaining to, or serving fast food
---