verb
Fast forward is defined as to cause something to advance at quicker than normal speed.

An example of fast forward is when you press the button on your remote to jump ahead so you do not have to watch commercials.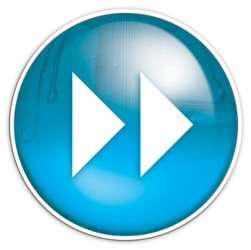 The fast forward button.
---
fast forward definition by Webster's New World
the setting on an electronic playback device, as a VCR, allowing the user to skip portions and advance at an accelerated speed to a later section of a disc, tape, etc.
the act or condition of speeding up and advancing
intransitive verb
,
transitive verb
to advance to a later time at an accelerated speed
Webster's New World College Dictionary Copyright © 2010 by Wiley Publishing, Inc., Cleveland, Ohio. Used by arrangement with John Wiley & Sons, Inc.
---
fast forward definition by American Heritage Dictionary
noun
or
fast forward
a. A function on an electronic recording device, such as a videocassette or tape player, that permits rapid advancement of the tape.

b. The mechanism, such as a button, used to activate this function.

Informal A rapidly changing situation or series of events: "The trial was on fast forward" (Nelson DeMille).
verb
fast-for·ward·ed
,
fast-for·ward·ing
,
fast-for·wards
verb
, intransitive
To advance a tape rapidly on an electronic recording device.
verb
, transitive
To advance (a tape) rapidly on such a device.