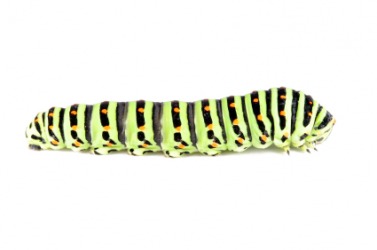 This caterpillar is an example of a larva.
noun
The definition of a larva is a young animal or insect that will change into something else in adulthood.

An example of a larva is a caterpillar that will become a butterfly.
---
larva
noun
pl.

-·vae·

or

-·vas
the early, free-living, immature form of any animal that changes structurally when it becomes an adult, usually by a complex metamorphosis: the caterpillar is the larva of the butterfly; the tadpole is the larva of the frog
Origin of larva
L, ghost, specter, akin to
lar
, household spirit: see lares
---
larva
noun
pl.
lar·vae,
or
lar·vas
a. The newly hatched, wingless, often wormlike form of many insects, developing into a pupa in species that undergo complete metamorphosis.

b. The six-legged immature form of a tick or mite.

The newly hatched, earliest form of any of various animals that undergo metamorphosis, differing markedly in appearance from the adult.
Roman Mythology A malevolent spirit of the dead.
Origin of larva
Latin
lārva
specter, mask (because it acts as a specter of or a mask for the adult form)
Related Forms:
Word History:
The word
larva
referring to the newly hatched form of insects before they undergo metamorphosis comes from the Latin word
lārva,
meaning "evil spirit, ghost, demon." The Latin word also was used to mean "a terrifying mask," such as one that might have been worn by a Roman performer in the role of such an evil spirit. In the 1600s and 1700s, scientists began to use the Latin word to describe the stage in an insect's life during which its final form is still hidden—the larval stage is a mask, so to speak, that the insect will later remove to reveal its adult appearance.
---
larva

Noun
(plural larvas or larvae or larvæ)
An early stage of growth for some insects and amphibians, in which after hatching from their egg, insects are wingless and resemble a caterpillar or grub, and amphibians lack limbs and ressemble fish.
An animal in the aforementioned stage.
A form of a recently born or hatched animal that is quite different from its adult stage.
Usage notes
Although the plural larvas is somewhat common, it is regarded by some as incorrect.
Origin
From Latin larva ("ghost-like, masked").
---