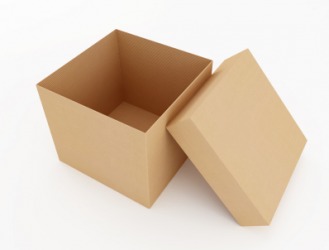 An empty cardboard carton.
noun
The definition of a carton is a container or large box used for shipping or for holding liquids.

An example of a carton is a container which holds a half gallon of milk.
---
carton
a cardboard box, esp. a large one, as for shipping merchandise
a boxlike container, as of light, waxed cardboard, for liquids
a full carton or its contents
Origin of carton
French from Italian
cartone
from
carta
, paper: see card
to put into a carton as for storage or shipment
---
carton
noun
Any of various containers made from cardboard or coated paper: cans packed in cartons; a milk carton.
The contents of a carton: dyed the whole carton of eggs.
transitive verb
car·toned, car·ton·ing, car·tons
To place (something) in a carton.
Origin of carton
French
from
Italian
cartone
pasteboard
augmentative of
carta
card, paper
from
Latin
charta, carta
paper made from papyrus
; see
card
1
.
---
carton

Noun
(plural cartons)
An inexpensive, disposable box-like creation fashioned from either paper, paper with wax-covering (wax paper), or other lightweight material. It is designed to hold things for a short period of time and be discarded or recycled after use.
See also:
cartón
---