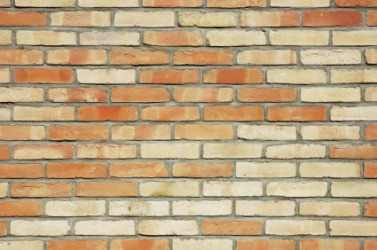 A wall made from bricks.
noun
The definition of a brick is a block made of molded and baked clay.

An example of a brick is the primary building material of 10 Downing Street in London.
---
brick
a substance made from clay molded into oblong blocks and fired in a kiln or baked in the sun, used in building, paving, etc.
one of these blocks, of any of various standard sizes
bricks collectively
anything shaped like a brick

Informal

a fine person
Origin of brick
Middle English
brike
from Middle Dutch from
breken
, break (in sense "piece of baked clay") and Middle French
brique
from OFr, of same origin, originally
built or paved with brick
like brick: brick red
to face, pave, etc. with brick
brick up
to close or wall in with brick
hit the bricks
Slang
to go out on strike
Brick
urban township in E N.J.
Origin of Brick
origin, originally a place where bricks were made
---
brick
noun
a. A molded rectangular block of clay baked by the sun or in a kiln until hard and used as a building and paving material.

b. Such blocks of clay used as a building material: a house made of brick.

c. An object shaped like such a block: a brick of cheese.

d. Informal A smartphone, tablet, or similar electronic device that connects to the internet that has become inoperable.

A dark brownish red.
Informal A helpful, reliable person.
Basketball A shot that falls short of the basket.
verb
bricked, brick·ing, bricks
verb
transitive
To construct, line, or pave with bricks.
To close or wall with brick: bricked up the windows of the old house.
To cause to become inoperable. Used especially of electronic devices, such as smartphones and tablets, that connect to the internet. I bricked my smartphone when I tried to untether it.
verb
intransitive
To become inoperable. Used especially of electronic devices, such as smartphones and tablets, that connect to the internet.
Origin of brick
Middle English
brike
from
Middle Dutch
bricke
Related Forms:
---
brick

Noun
(countable and uncountable, plural bricks)
(countable) A hardened rectangular block of mud, clay etc., used for building.

This wall is made of bricks.

(uncountable) Considered collectively, as a building material.

This house is made of brick.

(countable) Something shaped like a brick.

a plastic explosive brick

(basketball, slang) A shot which misses, particularly one which bounces directly out of the basket because of a too-flat trajectory, as if the ball were a heavier object.

We can't win if we keep throwing up bricks from three-point land.

(informal) A power brick; an external power supply consisting of a small box with an integral male power plug and an attached electric cord terminating in another power plug.
(firearms) a carton of 500 rimfire cartridges, which forms the approximate size and shape of a brick.
(poker slang) A community card (usually the turn or the river) which does not improve a player's hand.

The two of clubs was a complete brick on the river
Adjective
(not comparable)
Made of brick(s).

All that was left after the fire was the brick chimney.
Verb
(third-person singular simple present bricks, present participle bricking, simple past and past participle bricked)
To build with bricks.
To make into bricks.
(slang) To hit someone using a brick.
(computing slang) To make an electronic device nonfunctional and usually beyond repair, essentially making it no more useful than a brick.

My VCR was bricked during the lightning storm.
Antonyms
(technology, slang: revert a device to the operational state): unbrick
---
brick - Computer Definition
An electronics device that has been damaged or otherwise incapacitated. In other words, "as useful as a brick." A bricked device can be due to a hardware or software failure. See iBricking.
---