noun
The definition of a brick is a block made of molded and baked clay.

An example of a brick is the primary building material of 10 Downing Street in London.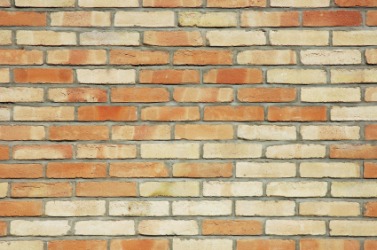 A wall made from bricks.
---
brick definition by Webster's New World
noun
a substance made from clay molded into oblong blocks and fired in a kiln or baked in the sun, used in building, paving, etc.
one of these blocks, of any of various standard sizes
bricks collectively
anything shaped like a brick

Informal

a fine person
Origin: Middle English brike ; from Middle Dutch ; from breken, break (in sense "piece of baked clay") and amp; Middle French brique ; from Old French of same origin, originally
adjective
built or paved with brick
like brick: brick red
transitive verb
to face, pave, etc. with brick
urban township in E N.J.: pop. 76,000
Origin: origin, originally a place where bricks were made
Webster's New World College Dictionary Copyright © 2010 by Wiley Publishing, Inc., Cleveland, Ohio. Used by arrangement with John Wiley & Sons, Inc.
---
brick definition by American Heritage Dictionary
noun
pl. bricks or brick A molded rectangular block of clay baked by the sun or in a kiln until hard and used as a building and paving material.
An object shaped like such a block: a brick of cheese.
Informal A helpful, reliable person.
transitive verb
bricked
,
brick·ing
,
bricks
To construct, line, or pave with bricks.
To close or wall with brick: bricked up the windows of the old house.
Origin: Middle English brike, from Middle Dutch bricke.
Related Forms:
The American Heritage® Dictionary of the English Language, 4th edition Copyright © 2010 by Houghton Mifflin Harcourt Publishing Company. Published by Houghton Mifflin Harcourt Publishing Company. All rights reserved.
---
brick - Computer Definition
An electronics device that has been damaged or otherwise incapacitated. In other words, "as useful as a brick." A bricked device can be due to a hardware or software failure. See iBricking.
Computer Desktop EncyclopediaTHIS DEFINITION IS FOR PERSONAL USE ONLYAll other reproduction is strictly prohibited without permission from the publisher.© 1981-2014 The Computer Language Company Inc. All rights reserved.
---
brick - Phrases/Idioms
brick up
or
brick in
to close or wall in with brick
hit the bricks
☆
Slang
to go out on strike
make bricks without straw
Etymology: from use of straw as binding agent in sun-baked bricks: cf. Ex. 5:7
to do something without the necessary material
drop a brick
Informal
To make a clumsy social error.