noun
The definition of adobe is a type of clay or soil used to make bricks.

The homes of the Pueblo Indians in the Southwest U.S. are examples of houses built with adobe bricks.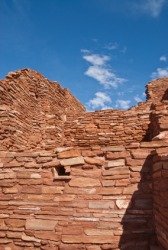 A wall made of adobe bricks.
---
adobe definition by Webster's New World
☆
noun
unburnt, sun-dried brick
the clay of which such brick is made
a building made of adobe, esp. in the Southwest
Origin: Spanish ; from Arabic aṭ-ṭūba, the brick ; from al, the plush Coptic tōbe, brick
Webster's New World College Dictionary Copyright © 2010 by Wiley Publishing, Inc., Cleveland, Ohio. Used by arrangement with John Wiley & Sons, Inc.
---
adobe definition by American Heritage Dictionary
noun
a. A sun-dried, unburned brick of clay and straw.

b. The clay or soil from which this brick is made.

A structure built with this type of brick.
Origin: Spanish, from Arabic aṭ-ṭūba, the brick : al-, the + ṭūba, a brick, singulative of ṭūb, bricks (from Coptic tōbe, tōōbe, from Egyptian ḏbt, brick).
The American Heritage® Dictionary of the English Language, 4th edition Copyright © 2010 by Houghton Mifflin Harcourt Publishing Company. Published by Houghton Mifflin Harcourt Publishing Company. All rights reserved.
---
adobe - Computer Definition
(Adobe Systems, Inc., San Jose, CA, www.adobe.com) The leading multimedia software company. Adobe products are used primarily by professional designers and editors. Founded in 1982 by Dr. John Warnock, Adobe helped pioneer the desktop publishing industry with its PostScript fonts. Initially developed for the Mac, PostScript became the standard among graphics and printing service bureaus. Adobe enhanced its offerings with the 1995 acquisitions of PageMaker and FrameMaker desktop publishing programs. Adobe's PhotoShop is the most widely recognized image editing program worldwide, and its Illustrator drawing program is another venerable application. In 2005, Adobe acquired Macromedia, adding Web-based authoring and multimedia tools to the product line (see Macromedia). See Adobe Creative Suite and Adobe Creative Cloud.