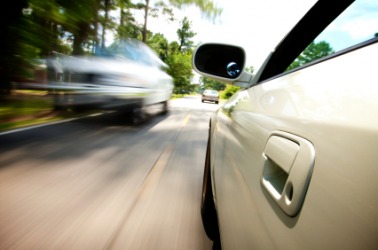 One car passes another at breakneck speed.
adjective
The definition of breakneck is something that is moving really, dangerously fast.

Driving at 100 miles per hour is an example of driving at breakneck speed.
---
breakneck
very fast, reckless, dangerous, etc.: said of speed, pace, etc.
---
breakneck
adjective
Dangerously fast: a breakneck pace.
Likely to cause an accident: a breakneck curve.
---
breakneck

Adjective
(comparative more breakneck, superlative most breakneck)
Dangerously fast; hell-for-leather.

He came running around the corner at a breakneck pace and couldn't stop in time to avoid hitting the fruit stand.
Noun
(plural breaknecks)
A fall that breaks the neck.
A dangerous steep place from which one could fall.
---