bleed
bleed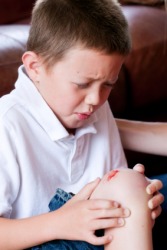 A boy has scraped his knee and made it bleed.
noun
The definition of a bleed is the part of a printed picture that extends past the margins.

An example of a bleed is the extra color around the border of a picture that needs to be trimmed off.
verb
Bleed is defined as to lose blood, suffer a wound, ooze or for color to come off or through.

An example of bleed is for a scraped knee to ooze blood.
An example of bleed is for the dye on a red shirt to transfer onto a white shirt while washing in hot water.
---
bleed
bled

,

bleed′ing
to emit or lose blood
to suffer wounds or die in a battle or cause
to feel pain, grief, or sympathy; suffer
to ooze; esp., to ooze sap, juice, etc., as bruised plants do
to run together: said as of dyes in wet cloth
to come through a covering coat of paint: said as of certain stains
to be printed to the edge of a page, wrapper, etc. so that a part is later trimmed off: said of pictures, designs, etc.
Origin of bleed
Middle English
bleden
; from Old English
bledan
; from
blod
, blood ; from Indo-European an unverified form
bhl?-
, variant, variety of base an unverified form
bhel-
, to swell from source ball, bloom
to draw blood from; leech
to ooze (sap, juice, etc.)
⌂ to take sap or juice from

to empty slowly of liquid, air, or gas
to draw off (liquid, air, or gas) slowly

to print (a picture, design, etc.) so that a small part at the edge is cut off when the paper is trimmed
to trim (a page) so as to bleed some of the printed matter

Informal

to get money from, esp. by extortion
the part of a printed picture, design, etc. that overruns the margin to be trimmed
---
bleed
verb
bled
,
bleed·ing
,
bleeds
verb
, intransitive
To emit or lose blood.
To be wounded, especially in battle.
To feel sympathetic grief or anguish: My heart bleeds for the victims of the air crash.
To exude a fluid such as sap.
To pay out money, especially an exorbitant amount.

a. To run together or be diffused, as dyes in wet cloth.

b. To undergo or be subject to such a diffusion of color: The madras skirt bled when it was first washed.

To show through a layer of paint, as a stain or resin in wood.
To be printed so as to go off the edge or edges of a page after trimming.
verb
, transitive
a. To take or remove blood from.

b. To extract sap or juice from.

a. To draw liquid or gaseous contents from; drain.

b. To draw off (liquid or gaseous matter) from a container.

a. To obtain money from, especially by improper means.

b. To drain of all valuable resources: "Politicians &ellipsis; never stop inventing illicit enterprises of government that bleed the national economy" (David A. Stockman).

a. To cause (an illustration, for example) to bleed.

b. To trim (a page, for example) so closely as to mutilate the printed or illustrative matter.
noun
An instance of bleeding.
Illustrative matter that bleeds.

a. A page trimmed so as to bleed.

b. The part of the page that is trimmed off.
Phrasal Verb:
bleed off
Aerospace
To decrease:
"Mike reared the chopper almost vertical to bleed off airspeed"
(Robert Coram).
Origin of bleed
Middle English
bleden
, from Old English
bl&emacron;dan
; see
bhel-
3
in Indo-European roots.
---
bleed
Verb
(third-person singular simple present bleeds, present participle bleeding, simple past and past participle bled)
(intransitive, of an animal) To lose blood through an injured blood vessel.

If her nose bleeds try to use ice.

To steadily lose (something vital).

The company was bleeding talent.

(intransitive, of an ink or dye) To spread from the intended location and stain the surrounding cloth or paper.
(intransitive, copulative) To show one's group loyalty by showing (its associated col) in one's blood.

He was a devoted Vikings fan: he bled purple.

To lose sap, gum, or juice.

A tree or a vine bleeds when tapped or wounded.

To issue forth, or drop, like blood from an incision.
(phonology, of a phonological rule) To destroy the environment where another phonological rule would have applied.

Labialization bleeds palatalization.
Noun
(plural bleeds)
An incident of bleeding, as in haemophilia.
In printing (1): a narrow edge around a page layout, to be printed but cut off afterwards (added to allow for slight misalignment, especially with pictures that should run to the edge of the finished sheet).
Origin
From Old English blēdan, from Proto-Germanic *blōþijaną ("to bleed"), from Proto-Germanic *blōþą ("blood"). Compare West Frisian bliede, Dutch bloeden, German bluten, Danish bløde, Swedish blöda.
---
bleed - Computer Definition
Printing at the very edge of the paper. Many laser printers, including all LaserJets up to the 11x17" 4V, cannot print to the very edge, leaving a border of approximately 1/4". In commercial printing, bleeding is generally more expensive, because wider paper is often used, which is later cut to size.
---