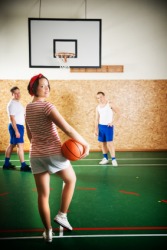 People playing basketball.
noun
The definition of basketball is a game played by two 5-player teams, the object of which is to get the ball through the opposing player's hoop the most times to score the most points, or a large ball that is used in the game.

An example of basketball is the game played by Michael Jordan.
An example of a basketball is the orange and black ball that is used during the game of the same name.
---
basketball
a game played by two opposing teams of usually five players on a rectangular, often wooden, court with a raised basket at each end: points are scored by tossing or throwing a ball through the basket at the opponent's end
the large, round, inflated ball used in this game
Origin of basketball
invented and named (1891) by James A. Naismith (1861-1939) at Y.M.C.A. College, Springfield, Mass.
---
basketball
noun
A game played between two teams of five players each, the object being to throw a ball through an elevated basket on the opponent's side of a rectangular court. Players may move the ball by dribbling or passing with the hands.
The inflated, spherical ball used in this game.
---
basketball

Noun
(countable and uncountable, plural basketballs)
(sports, uncountable) A sport in which two opposing teams of five players strive to put a ball through a hoop.
(basketball, countable) The particular kind of ball used in the sport of basketball.
---