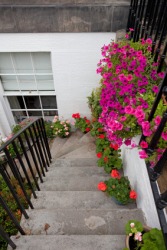 Steps leading down to a basement.
---
basement
noun
the foundation or lower part of a wall or structure
the lowest story of a building, below the main floor and wholly or partly below the surface of the ground

Geol.

the oldest layer of igneous and metamorphic rocks in the crust of the earth, covered by layers of more recent, usually sedimentary rocks
Origin of basement
base + -ment
---
basement
noun
The substructure or foundation of a building.
The lowest habitable story of a building, usually below ground level.
A complex of undifferentiated igneous and metamorphic rocks underlying sedimentary strata.
Slang The last place or lowest level, as in competitive standings.
Chiefly New England A public toilet, especially one in a school.
Origin of basement
Probably
base
1
+
–ment
(perhaps influenced by French
soubassement
,
subfoundation
).
---
basement
Noun
(plural basements)
A floor of a building below ground level.
(sports, informal) Last place in a sports conference standings.
---