noun
The definition of an attic is a room or space directly under the roof.

An example of an attic is the space where Shirley Temple slept in The Little Princess.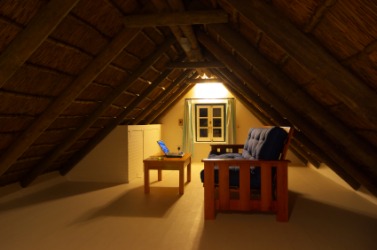 An attic being used as a workroom.
---
attic definition by Webster's New World
noun
a low wall or story above the cornice of a classical facade
the room or space just below the roof of a house; garret
Origin: French attique, an attic ; from Attique, Attic, used as an architectural term
adjective
of Attica
of or characteristic of Athens, esp. ancient Athens, or its people, language, or culture; Athenian
classical; simple, restrained, etc.: said of a style
Origin: Classical Latin Atticus ; from Classical Greek Attikos
noun
the variety of Greek spoken in ancient Attica, which became the literary language of ancient Greece
Webster's New World College Dictionary Copyright © 2010 by Wiley Publishing, Inc., Cleveland, Ohio. Used by arrangement with John Wiley & Sons, Inc.
---
attic definition by American Heritage Dictionary
noun
A story or room directly below the roof of a building, especially a house.
A low wall or story above the cornice of a classical façade.
Origin: From Attic story, story of a building enclosed by one decorative structure placed above another, much taller decorative structure, usually involving the Attic order, an architectural order having square columns of any of the basic five orders, from French attique, from attique, Attic, from Latin Atticus; see Attic.
adjective
Of, relating to, or characteristic of ancient Attica, Athens, or the Athenians.
Characterized by purity, simplicity, and elegant wit: Attic prose.
noun
The ancient Greek dialect of Attica, in which the bulk of classical Greek literature is written.
Origin: Latin Atticus, from Greek Attikos, from Attikē, Attica.
The American Heritage® Dictionary of the English Language, 4th edition Copyright © 2010 by Houghton Mifflin Harcourt Publishing Company. Published by Houghton Mifflin Harcourt Publishing Company. All rights reserved.
---
attic - Medical Definition
noun
The upper portion of the tympanic cavity above the tympanic membrane that contains the head of the malleus and the body of the incus. Also called
epitympanum
.