cellar

cel·lar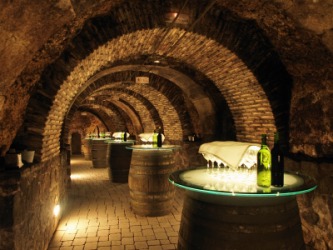 Barrels in an old wine cellar.
noun
A cellar is a basement space or a space below the main levels of a house, often used to stockpile of wine or other provisions.

Your basement floor below the first floor of your home is an example of a cellar.
Your collection of 200 bottles of wine is an example of a wine cellar.
verb
The definition of cellar is to store wine in a special room, usually below ground, that is an optimal temperature or provides optimal storage conditions.

When you put a new bottle of wine you have bought into a room where you already have 100 bottles of wine, this is an example of when you cellar the wine.
---
cellar
a room or group of rooms below the ground level and usually under a building, often used for storing fuel, provisions, or wines
a stock of wines kept in such a cellar
Origin of cellar
Middle English
celler
from Old French
celier
from Classical Latin
cellarium
, pantry, storeroom from
cella
: see cell
the cellar
Informal
the lowest position, as in the relative standing of competing teams
---
cellar
noun
A room or enclosed space used for storage, usually beneath the ground or under a building.
A basement.
An underground shelter, as from storms.
A wine cellar.
Slang The last place or lowest level, especially in competitive standings: The team came from the cellar to win the pennant.
transitive verb
cel·lared, cel·lar·ing, cel·lars
To store in a cellar.
Origin of cellar
Middle English
celer
from
Old French
from
Late Latin
cellārium
pantry
from
Latin
cella
storeroom
; see
kel-
1
in Indo-European roots.
---
cellar

Verb
(third-person singular simple present cellars, present participle cellaring, simple past and past participle cellared)
To store in a cellar.
Origin
From Anglo-Norman celer, Old French celier (modern cellier), from Latin cellārium.
Noun
(plural cellars)
salt cellar
---