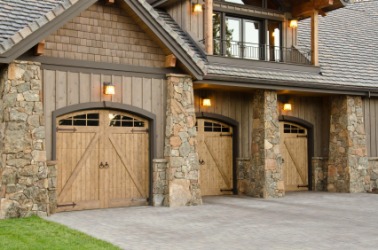 A home with three garages.
noun
The definition of a garage is an enclosed space for keeping or repairing cars.

An example of a garage is the part of a home that has a large door that opens to the outside.
An example of a garage is the place where you take your car for an oil change.
---
garage
a closed shelter for a motor vehicle or vehicles
a business establishment where motor vehicles are stored, repaired, serviced, etc.
Origin of garage
French from
garer
, to protect, preserve from Gmc, as in Old High German
waron
, to watch over: for Indo-European base see warn
designating or of a kind of loud, fast rock music originating in the U.S. in the 1960s, characterized by crude instrumental and vocal techniques associated with young, amateur musicians
designating or of a band that plays such music
transitive verb
-·raged′

,

-·rag′ing
to put or keep in a garage
---
garage
noun
A building or indoor space in which to park or keep a motor vehicle.
A commercial establishment where cars are repaired, serviced, or parked.
transitive verb
ga·raged, ga·rag·ing, ga·rag·es
To put or store in a garage.
Origin of garage
French
from
garer
to shelter
from
Old French
garer, guerrer
of Germanic origin
; see
wer-
4
in Indo-European roots.
Related Forms:
---
garage

Noun
(plural garages)
A building (section of a building) used to store a car or cars, tools and other miscellaneous items.
(chiefly UK, Canada, Australia, New Zealand)  A petrol filling station.
(dated, 20th century, North America)  An independent automobile repair shop.
  A type of guitar rock music, personified by amateur bands playing in the basement or garage.
(UK)  A type of electronic dance music related to house music, with warped and time-stretched sounds.
Usage notes
Historically a commercial garage would offer storage, refueling, servicing, and repair of vehicles. Since the mid-late 20th Century, storage has become uncommon at premises having the other functions. Now refueling, servicing, and repair are becoming increasingly separated from each other. Few repair garages still sell petrol; it is very uncommon for a new filling station to have a mechanic or any facilities for servicing beyond inflating tires; and a new kind of business exists to provide servicing: the oil/lube change shop.
Verb
(third-person singular simple present garages, present participle garaging, simple past and past participle garaged)
To store in a garage.

We garaged the convertible during the monsoon months.
Origin
Borrowing from French garage ("keeping under cover, protection, shelter"), derivative of French garer ("to keep under cover, dock, shunt, guard, keep"), from Middle French garer, garrer, guerrer; partly from Old French garir, warir (from Old Frankish *warjan); and partly from Old French varer ("to fight, defend oneself, protect"), from Old Norse varask ("to defend oneself"), reflexive of vara ("to ware, watch out, defend"); both ultimately from Proto-Germanic *warjaną ("to defend, ward off"), *warōną ("to watch, protect"), from Proto-Indo-European *wer- ("to close, cover, protect, save, defend").
---