ballet

bal·let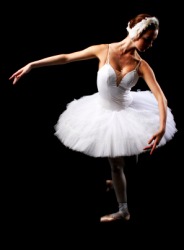 A ballet dancer.
noun
The definition of ballet is a form of dance that is graceful and flowing, or a theatrical presentation of ballet dancing.

An example of someone who dances in the form of ballet is Mikhail Baryshnikov.
An example of a ballet is the Nutcracker.
---
ballet
an artistic dance form based on an elaborate formal technique, characterized by gestures and movements of grace, precision, and fluidity

a theatrical presentation of ballet dancing performed to music and presenting a story, idea, or mood, usually with costumes and scenery
the music for such a presentation

a company of dancers of ballet
Origin of ballet
French
ballette
from Italian
balletto,
diminutive from
ballo,
a dance: see ball
---
ballet
noun
A classical dance form characterized by grace and precision of movement and by elaborate formal gestures, steps, and poses.
A theatrical presentation of group or solo dancing to a musical accompaniment, usually with costume and scenic effects, conveying a story or theme.
A musical composition written or used for this dance form.
Origin of ballet
French
from
Italian
balletto
diminutive of
ballo
dance
from
ballare
to dance
; see
ballerina
.
Related Forms:
ballet
---
ballet

---