aurora

Au·ro·ra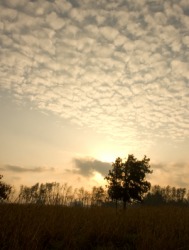 Aurora, or the dawn.
noun
Meteorologically, an aurora is the result of charged particles colliding, creating bright lights in the sky.

An example of aurora is when the sun just begins to rise.

The definition of aurora is the goddess of the dawn in Roman mythology, or the specific time of day that is called dawn.

An example of the Aurora is the goddess whose siblings are Sol (the sun) and Luna (the moon).An example of an aurora is the Northern Lights.
---
Aurora
noun
pl. for 2-4

-·ras

or

-·rae
Rom. Myth.

the goddess of dawn: identified with the Greek Eos
[a-] the dawn
[a-] aurora australis or aurora borealis
[a-] any of various luminous phenomena, similar to the aurora borealis, in the atmosphere of a planet
Origin of Aurora
L, literally , dawn: for Indo-European base see east
Origin of Aurora

after the goddess

Aurora

, probably because of pleasant connotations city in NC Colo., near Denver

city in NE Ill., near Chicago

Origin of Aurora

after the goddess

Aurora
---
aurora
noun
pl.
au·ro·ras,
or
au·ro·rae
A luminous atmospheric phenomenon appearing as streamers or bands of light sometimes visible in the night sky in northern or southern regions of the earth. It is thought to be caused by charged particles from the sun entering the earth's magnetic field and stimulating molecules in the atmosphere.
The dawn.
Origin of aurora
Middle English
dawn
from
Latin
aurōra
; see
aus-
in Indo-European roots.
Related Forms:
au·ro′ral au·ro′re·an

adjective
Aurora
noun
Roman Mythology
The goddess of the dawn.
Origin of Aurora
Latin
Aurōra
; see
aurora
.
Aurora
A city of north-central Colorado, a residential suburb of Denver.x
A city of northeast Illinois on the Fox River west of Chicago. It developed as an industrial center.x
---
aurora

---