noun
The definition of aurora borealis is a well known light display in the Northern Hemisphere created by colliding charged particles in the atmosphere.

An example of Aurora Borealis is the light display also known as the Northern Lights.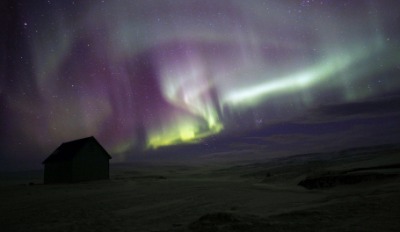 Aurora borealis is also called the northern lights or polar lights.
---
aurora borealis definition by Webster's New World
irregular, luminous phenomena, as streamers, visible at night in a zone surrounding the north magnetic pole and produced in the ionosphere when atomic particles strike and excite atoms; northern lights
Origin: Classical Latin literally , northern aurora: see Aurora and amp; Boreas
Webster's New World College Dictionary Copyright © 2010 by Wiley Publishing, Inc., Cleveland, Ohio. Used by arrangement with John Wiley & Sons, Inc.
---
aurora borealis definition by American Heritage Dictionary
noun
pl.
aurora bo·re·al·is·es
or
aurorae borealis
An aurora that occurs in northern regions of the earth. Also called northern lights.
Origin: New Latin aurōra boreālis : Latin aurōra, dawn + Latin boreālis, northern.
The American Heritage® Dictionary of the English Language, 4th edition Copyright © 2010 by Houghton Mifflin Harcourt Publishing Company. Published by Houghton Mifflin Harcourt Publishing Company. All rights reserved.
---
aurora borealis - Cultural Definition
A display of colored lights in the sky, also called northern lights, caused by the interaction of particles from the sun with the upper atmosphere near the North Pole. A similar display, called the aurora australis, occurs in the atmosphere above the South Pole.