aurora borealis
aurora bo·re·al·is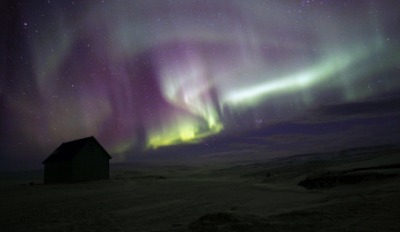 Aurora borealis is also called the northern lights or polar lights.
noun
The definition of aurora borealis is a well known light display in the Northern Hemisphere created by colliding charged particles in the atmosphere.

An example of Aurora Borealis is the light display also known as the Northern Lights.
---
aurora borealis
irregular, luminous phenomena, as streamers, visible at night in a zone surrounding the north magnetic pole and produced in the ionosphere when atomic particles strike and excite atoms; northern lights
Origin of aurora borealis
L, literally , northern aurora: see Aurora and Boreas
---
aurora borealis
noun
pl.
aurora bo·re·al·is·es,
or
aurorae borealis
An aurora that occurs in northern regions of the earth. Also called northern lights .
Origin of aurora borealis
New Latin
aurōra boreālis
Latin
aurōra
dawn
Latin
boreālis
northern
aurora borealis
---
aurora-borealis

---