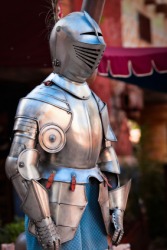 A suit of medieval armor.
noun
The definition of armor is a covering that is worn to protect against weapons.

A knight's uniform is an example of armor.
---
armor
covering worn to protect the body against weapons
any defensive or protective covering, as on animals or plants, or the metal plating on warships, warplanes, etc.
the armored forces and vehicles of an army; tanks, reconnaissance cars, etc.
a quality or condition serving as a defense difficult to penetrate
Origin of armor
Middle English
armure
from Old French from Classical Latin
armatura
: see armature
to put armor or armor plate on

---
armor
noun
A defensive covering, as of metal, wood, or leather, worn to protect the body against weapons.
A tough, protective covering, such as the bony scales covering certain animals or the metallic plates on tanks or warships.
A safeguard or protection: faith, the missionary's armor.

a. The combat arm that deploys armored vehicles, such as tanks.

b. The armored vehicles of an army.
transitive verb
ar·mored, ar·mor·ing, ar·mors
To cover with armor.
Origin of armor
Middle English
armure
from
Old French
armeure
from
Latin
armātūra
equipment
; see
armature
.
---
armor

Noun
(countable and uncountable, plural armors) (chiefly, US)
(uncountable) A protective layer over a body, vehicle, or other object intended to deflect or diffuse damaging forces.
(uncountable) A natural form of this kind of protection on an animal's body.
(uncountable) Metal plate, protecting a ship, military vehicle, or aircraft.
(countable) A tank, or other heavy mobile assault vehicle.
(military, uncountable) A military formation consisting primarily of tanks or other armoured fighting vehicles, collectively.
(hydrology, uncountable) The naturally occurring surface of pebbles, rocks or boulders that line the bed of a waterway or beach and provide protection against erosion.
Verb
(third-person singular simple present armors, present participle armoring, simple past and past participle armored)
To equip something with armor or a protective coating or hardening.
To provide something with an analogous form of protection.
Origin
From Middle English armo(u)r/armure, from Anglo-Norman armour(e)/armure, from Old French armëure, from Latin armātūra.
---