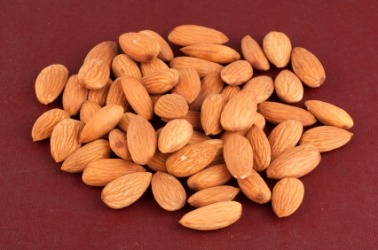 Shelled almonds.
noun
The definition of an almond is the kernel of a tree fruit that grows in warm climates.

The light tan, oval fruit of the Prunus tree is an example of an almond.
---
almond
the edible, nutlike kernel of the small, dry, peachlike fruit of a prunus tree (Prunus dulcis) that grows in warm regions
the tree itself

anything shaped like an almond, oval and pointed at one or both ends
the light-tan color of the almond shell
Origin of almond
Middle English
almande
from Old French
alemande, amande
from Medieval Latin
amandola
from Classical Latin
amygdala
from Classical Greek
amygdal?
made of almonds
having the flavor, shape, or color of an almond
---
almond
noun
a. A deciduous tree (Prunus dulcis) in the rose family, native to Asia and northern Africa and having alternate, simple leaves, pink flowers, and leathery fruits.

b. The ellipsoidal kernel of this tree, either eaten as a nut or used for extraction of an oil for flavoring.

Any of several other plants, such as the Indian almond, especially those with fruits or seeds suggestive of the almond.
Something having the oval form of an almond.
A pale tan.
Origin of almond
Middle English
almande
from
Old French
from
Late Latin
amandula
alteration of
Latin
amygdala
from
Greek
amugdalē
---
almond

---