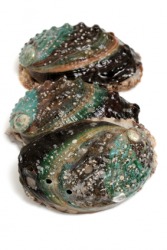 These are three abalones.
---
abalone definition by Webster's New World
☆
noun
any of a family (Haliotidae) of edible gastropod sea mollusks with an oval, somewhat spiral shell perforated near the edge and lined with mother-of-pearl
Origin: Calif. Mexican Spanish aulón ; from Costanoan (a Penutian language) aulun
Webster's New World College Dictionary Copyright © 2010 by Wiley Publishing, Inc., Cleveland, Ohio. Used by arrangement with John Wiley & Sons, Inc.
---
abalone definition by American Heritage Dictionary
noun
Any of various large edible marine gastropods of the genus Haliotis, having an ear-shaped shell with a row of holes along the outer edge. The colorful pearly interior of the shell is often used for making ornaments. Also called ear shell.
Origin: American Spanish abulón.