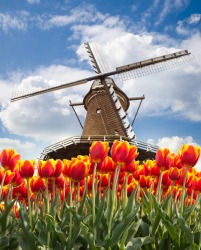 Beautiful tulips surround this windmill in Holland.
noun
The definition of a windmill is an engine that makes use of the wind as its power source.

Facts About Windmills

Windmills grind grains, pump water, and generate electricity.
The stronger the wind, the faster the rotation of the blades. The blades automatically turn the drive shaft. This process will generate the electricity. Current is sent through the wires within the device and stored.
The most traditional type of windmill is the horizontal turbine. It is actually similar to the propeller of an airplane.
A vertical turbine has blades which resemble an egg beater.
The amount of electricity generated will depend on the size of the windmill.
Wind turbines produce zero emissions and are renewable power sources.

An example of a windmill is a wind turbine on top of a hill that captures and generates electricity.
---
windmill
a mill operated by the wind's rotation of large, oblique vanes radiating from a shaft: the rotating vanes generate power for the mill in grinding grain, pumping water, etc.
wind turbine
anything like a windmill, as a propellerlike toy (pinwheel) revolved by wind
to rotate like a windmill
tilt at windmills
to fight imaginary evils or opponents: from Don Quixote's charging at windmills under the delusion that they were giants
Origin of windmill
see tilt, intransitive verb

---
windmill
noun
A machine that runs on the energy generated by a wheel of adjustable blades or slats rotated by the wind.
Something, such as a toy pinwheel, that is similar to a windmill in appearance or operation.
intr. & tr.v.
wind·milled, wind·mill·ing, wind·mills
To move or cause to move like the wheel of a windmill; rotate sweepingly.
---
windmill

---